How to knit a skirt with a crocket
June 8, 2017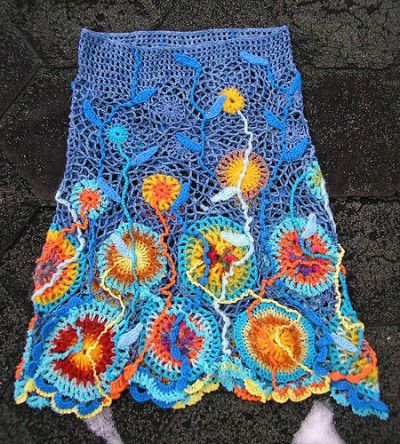 The days of summer vacation are closer, and I think about the beach rest more and more often.  That is why it is a good time to refresh the summer image. Nothing else makes a woman more beautiful as an airiness dress or a skirt. Let's think about knitting a skirt for the summer time. Choose the model which you want to have in your wardrobe (the technique and the knitting pattern should not be too complicated for you.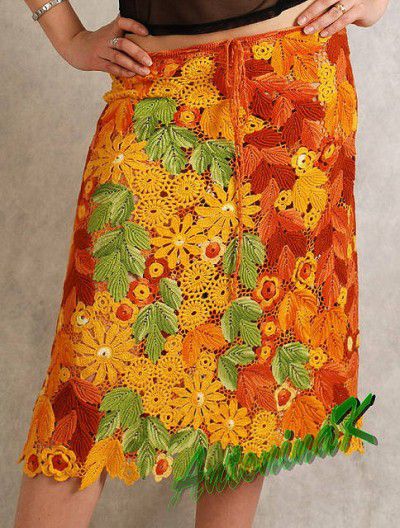 Select the appropriate crocket hook and the thread which is appropriate for the chosen model, taking into account that the thickness of the tool should be two times thicker than the thickness of the thread.
In order to avoid the mistakes prepare the real-size cut on the dense paper before you start knitting. So your skirt will be of appropriate size and silhouette.
Measuring the waist, add another 3-5 cm for the loose skirt. Knit a small sized pattern, 10x10 cm will be enough to check whether the pattern is what you expect.
How to count the amount of yarn for the knitted skirts: for middle (M) size you will need 2 skeins of yarn. It is for a skirt of the straight silhouette up to the middle of the knee. If you plan to knit the maxi skirt, take 7-8 skeins of the yarn.
If you decided to knit a skirt of openwork lace, consider about knitting the Irish lace technique. The things knitted with Irish lace technique are especially charming.
As a rule, openwork skirts are lined, except the beach skirts and models which are worn on the top of trousers. When the main part of the product is ready (and the parts are sewn), sew the lining of 40 cm length. Do not forget to make a cushion for a ribbing or girdle. Chose the lining of a beige color, or the lining which matches the color of the yarn. Sew the lining to the belt of workpiece.
Take in attention that viscose thread is slightly stretched after the first wash. Design the model with waves and ruffles if you wish to make your skirt especially tender.
Pictures were taken from: