Handmade pillow biscuit for beginners
June 27, 2017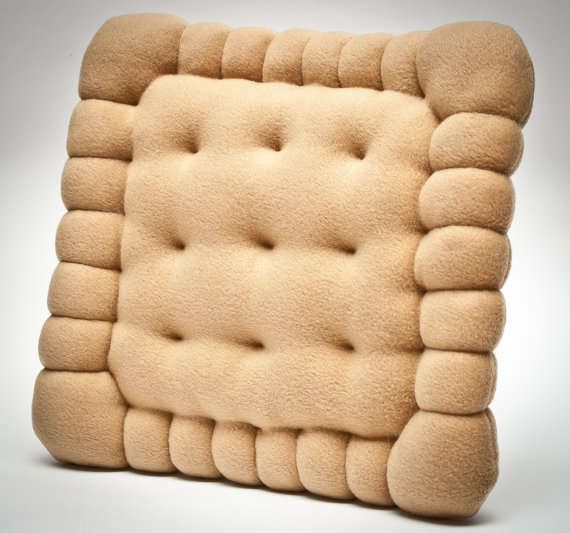 I saw the picture of such a pillow-biscuit and liked it a lot! The main thing is that you do not need some specific pattern for it. You will need a sewing machine and the minimum of materials for it. Even beginner can create this funny handmade pillow.
If you don't have the foam rubber of the required thickness, you can use the padding polyester just folded several times. For this pillow, you may use the fabric of any texture and color. It is just a full creative and flight of imagination. Also you will need the threads of matching color. If you sew the pillow of fabric similar to that is on picture, use a thick thread. That are all materials you need to create this handmade masterpiece. The size of a pillow is adjustable. Its size depends on your desire and possibilities.
Take the padding polyester and encircle it on fabric, then cut it. For the pillow you will need the two pieces with the same dimensions. You may sweep the pillow, or to sew it at once. But one size should remain unstitched. That will be the base for the pillow biscuit. Now you have to perform the most creative part of the work - to process the sizes of a pillow. For this work you will need a long needle, so take the biggest needle you have. You have to form the sides of a pillow exactly like in the real biscuit. The work should be started from the edges of a pillow, and then you should form the middle of a pillow.
Important tip: the relief of a pillow should be symmetric, otherwise it will look sloppy.
The estimated time of work on this handmade pillow is two hours. And not specific skills or materials  required. But when you see it finished, there will not limit of delight. The pillow biscuit looks very funny. Always keep your eyes open and be ready to act, and you will have the most original handmade crafts.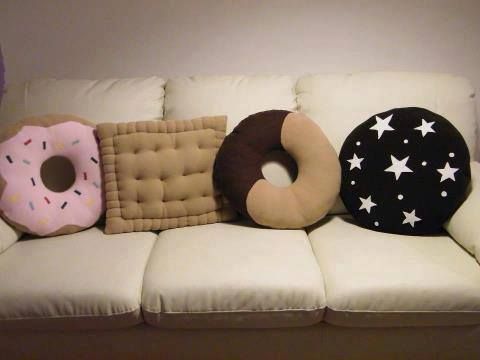 Pictures were taken from: https://www.trendhunter.com/