DIY decorations from throwback materials
June 27, 2017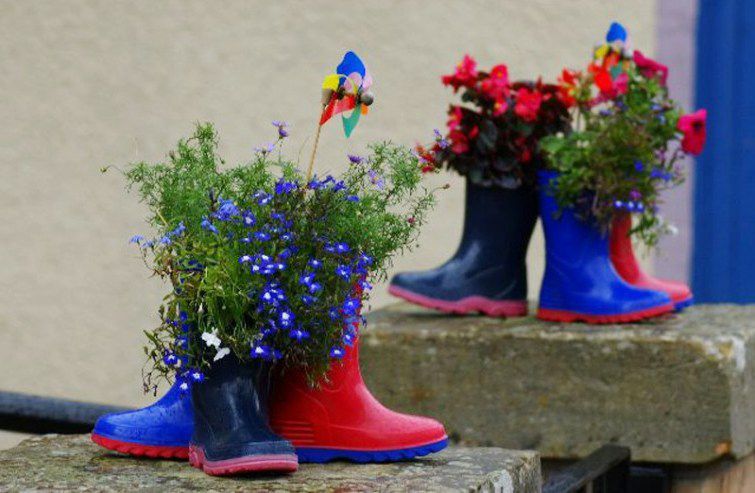 House decorated with all sorts of objects or some handmade items looks nicer. Today you can create a huge number of handicrafts for your house. But in this article I will tell you about what crafts you can make for house out of throwback material handmade. Here you will see photos of such crafts and you will be able to find a description. Let's start!
Beautiful and bright pendent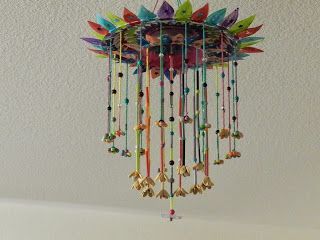 A beautiful pendent in bright colors is also very simple to DIY. You should prepare: 

paper plate of large and small size;
beads and plastic;
wool threads;
pumpkin seeds;
plastic straws;
puncher;
scissors and glue gun. 
Work progress: 
First of all, in a large plate made of paper it is necessary to make holes through a punch. From a piece of plastic, cut out the petals and glue them in a circle to the plate. Now it is necessary to paint petals and pumpkin seeds. On the plates put the pumpkin seeds, which have already been painted. 
Then you should take up the hangings. For this purpose, florets must be made at the ends of the threads. They are done as follows: first you need to fix the bead on the thread. To make this glue seeds of a pumpkin. Then attach the ready-made threads with flowers to the plate. 
They are fixed already in the finished holes. So your wonderful pendent is ready. 
Unusual clock for decorating the interior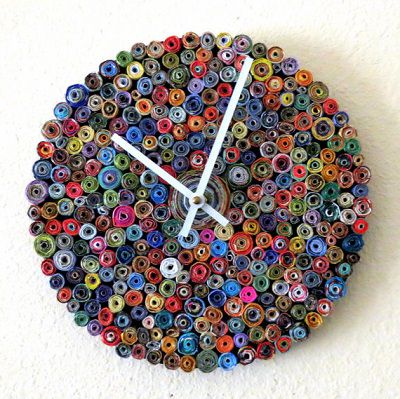 The creation of such handicrafts handmade, for sure, will bring you joy. If you have some old newspapers and magazines, do not rush to throw them away. Remember that these things can be used to create an original craft, which will be a wonderful decoration of the interior. 
To create a beautiful clock you will need to prepare: 
strips of magazines and newspapers;
a circle of dense cardboard;
switch mechanism;
glue. 
Work progress: 
Cut newspapers or magazines into strips of small size. Each strip should be curled into a roll. If the rolls turned out to be colorless, they can be painted with bright watercolors. Glue these rolls to the cardboard circle. You can attach the clock to the kitchen or to another room. 
Picture of pistachios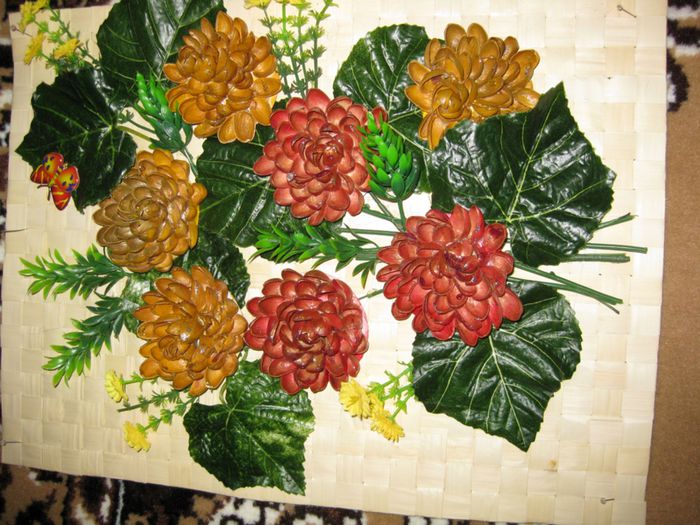 It is so wonderful that the manufacture of handicrafts from waste material handmade is an excellent way for those people who love creativity. Any material can be used today. For example, shells from pistachios.

You will need: 
the shells from pistachios; 
glue;
paint. 
Work progress: 
To create a picture of pistachios form flowers. At the same time, the glue must be applied to the lower part of the shell. Thus it is necessary to increase the size of the bud and give it the desired shape. Finished florets must be painted.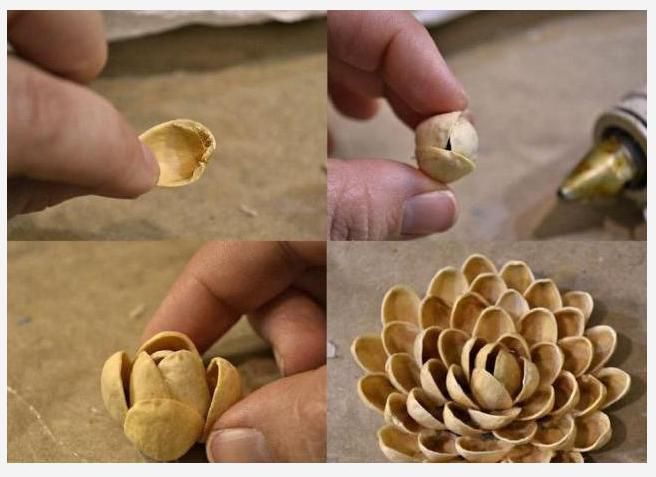 In this case, aerosol paints or acrylics are used. If you decide to paint with acrylic paints, then in order to make this process quickly they are bred in some vessel with water. The flowers fall into this vessel, stay for a while and are taken out. Colored buds can be used to create a painting. In this case, an adhesive gun and other materials are used. 

Pots of rubber boots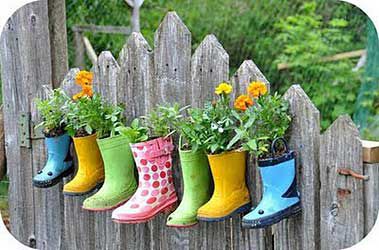 Even old rubber boots can be used to decorate the country plot. They can be pots for different plants. In order for the boots to look decent, they are painted in a certain color making a hole for hanging and pouring in them earth. Now you can put in any kind of pots any plant that you want.