DIY creative mirror
June 2, 2017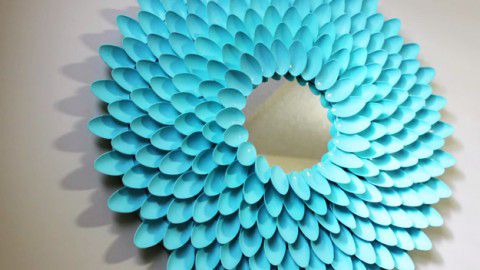 Here's a master class about handmade decorative mirror from spoons! A mirror is an important decoration item in any room. This part of furniture is really important in interiors of bathroom, hall, bedroom and living room, as it is not only using as a wall decoration, but also becomes an integral accessory for daily use.
Buying a mirror in a wooden or plastic frame can be expensive, so we decided to create it handmade! And we use for it not an ordinar way, but plastic spoons!
In this way, you can decorate not only a new mirror, but also restore the old one. Crafts from disposable dishes - this is an economical option to bring something new and original to the interior and to do it handmade!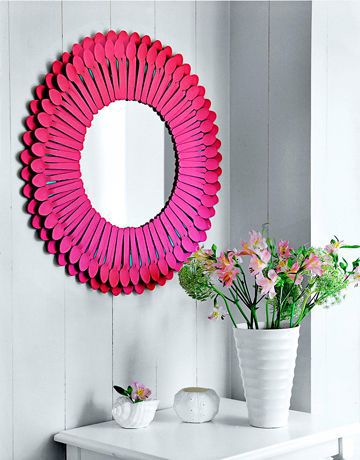 To create a handmade decorative mirror you will need:
- plastic spoons;
- chipboard;
- a mirror;
- paint from a can;
- acrylic paint;
- brushes; 
- glue.
Process:
1) From a piece of polywood, you need to cut a circle that will suit to the size of the mirror.
2) Carefully break off all the legs from the plastic spoons.
3) We start to stick the spoons to the chipboard in a circle from the outer edge. Leave an empty distance of one spoon between the stuck spoons in one row.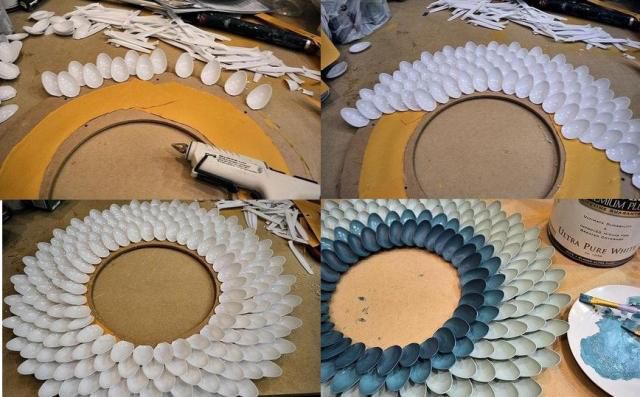 4) The second row is glued just at intervals, i.e. in a checkerboard pattern. Stick the spoons with a slight overlap on a previous row, so they won't stick out.
5) Fill in this way the entire circle of the chipboard. During gluing, press the spoons well so they not fall off.
6) Wait until the glue dries.
7) Spray the paint evenly over the surface of your spoons. Choose the color of the paint, according to your interior. In addition, acrylic paints can make a transition from a dark shade to a light one or vice versa.
8) When the frame dries, attach your mirror on a back with a glue. Your handmade decorative mirror is ready!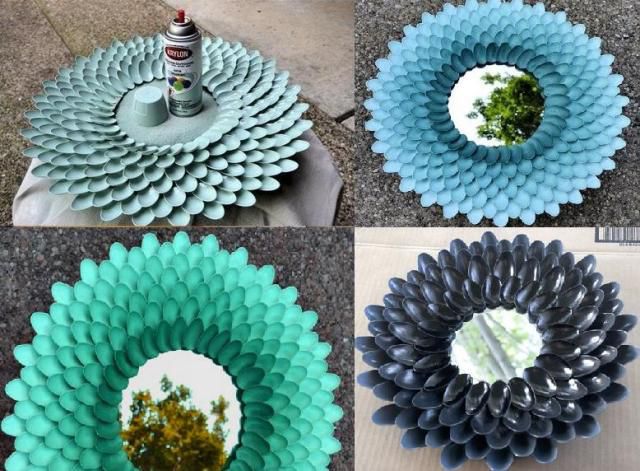 It can be hung in the children's room or on the hall. It is not necessary to make a wide range of chipboard, it all depends on your design ideas and abilities. Disposable ware has many advantages: it does not beat, it looks almost like usual and can be used as a material for hand-made articles. Use it and enjoy it!