DIY poof from recycled materials!
June 9, 2017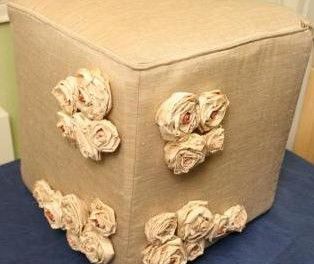 The poof is an original element of a playroom, a hallway or a bedroom. Over the centuries, this piece of furniture changed shape and design, so today you can meet even frameless models. The cost of a conventional poof is from $ 20 to $ 400, and depends on the model, upholstery materials and the manufacturer. Today I want to tell you how to make an inexpensive and strong poof handmade from recycling materials! Our materials to recycle are plastic bottles! Cheap and easy. So let's begin!
Materials for handmade poof from bottles: 

- plastic bottles of the same size- 32 pieces; 
- the cloth; 
- scotch tape; 
- sintepon or foam rubber; 
- glue gun; 
- decorative fittings or tapes; 
- sewing machine; 
- lightning. 
Master-class of manufacturing poof handmade:
1. To make the puffer more convenient and durable, it is necessary to make special designs from bottles. To do this, cut off each bottle 1/3 of its neck, turn over this part and insert into the remainder of the bottle. 
2. We make such blanks from all bottles and the fasten the joints with adhesive tape or paint tape.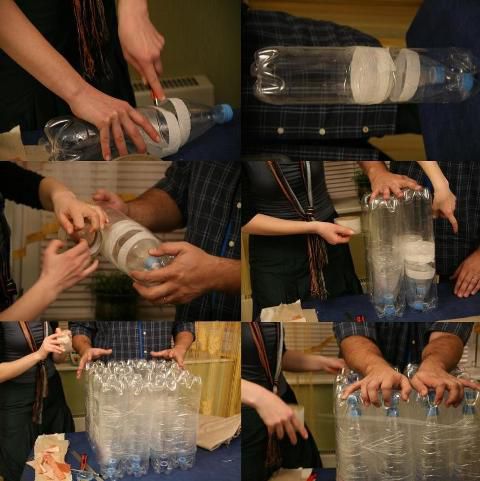 3. It will be better to combine these modified bottles into a whole structure in the form of a poof taking only 2 pieces together. After that, we connect them into a square of 4 × 4 bottles and fix the structure firmly with adhesive tape to avoid falling out or shifting the individual parts. 

4. Now measure the sides of the poof. Dimensions for each side, transfer to the fabric and cut out six square or rectangular segments, depending on the shape of the resulting puff. Cover foam and sintepon bottom and seat products. Now put the poof of bottles on the sewn cover.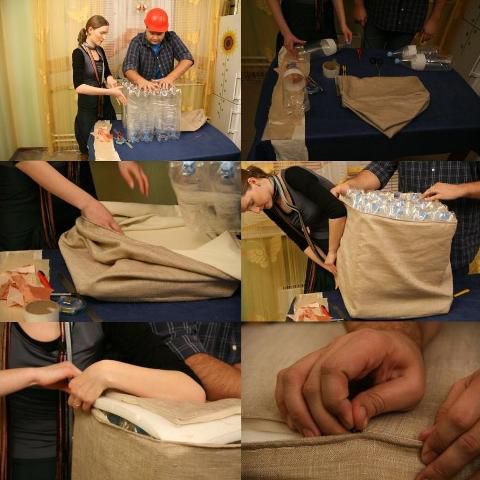 5. Sew stitchets together and on one side sew a zipper. 

6. Cover foam and sintepon with the bottom and seat of the product. Now put the sewn cover on the poof. Glue the ends with a glue gun and glue them to the padded stool.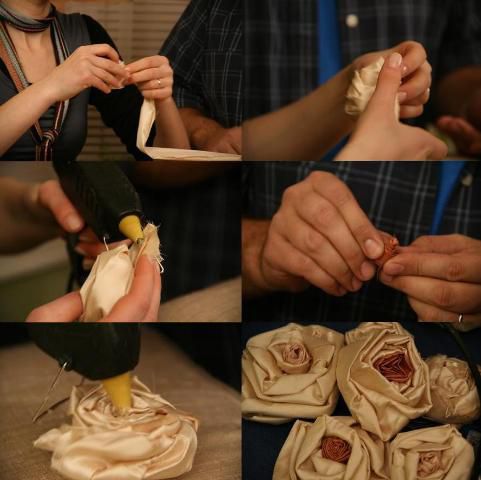 7. Close the zipper and proceed to decorating. From ribbons or pieces of silk fabric you can make beautiful roses handmade. Decorate the finished product according to your taste, you do not have to make a poof square or rectangular shape, you can design a cylinder with a round or oval seat. 

Enjoy your new handmade masterpiece which is comfortable and useful for surrounding!