Wine Bottle Crafts
November 11, 2016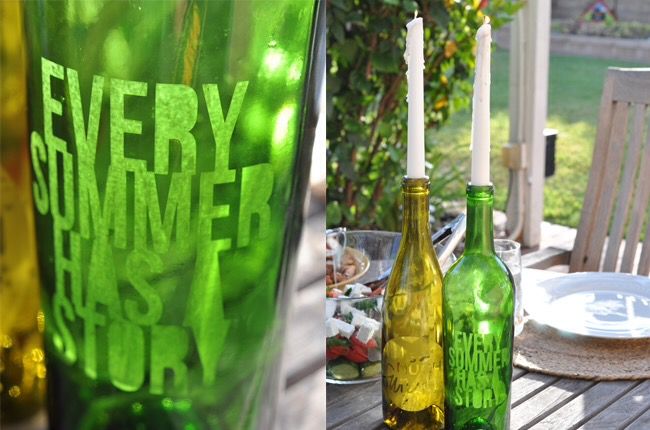 Bottle crafts are the most popular crafts. You can use them as a statement in any room, as a candle holders, New Year decorations, a vases, a drinking glasses for flowers and even as a bird feader. I will attach some pictures which I like. You can choose one as a guide or create your own.

1. I was obsessed with gorgeous wine bottle candle holder. It's so easy to sit and so great decor for the table. Everything I needed to etch a custom design on the front is a Silhouette Glass Etching Kit ( I found at www.silhouetteonlinestore.com . When my bottle were ready to entertain I placed two taper candles on the top. I love how they look like.
2. One of my fav wine bottles crafts is burlap-wrapped wine. They are good as decoration or even as a Table number. You will need a chalkboard wine bottle, a burlap lace ribbon, a glue and a rope. Wrap your chalkboard wine bottle with the burlap lace around the base. Use adhesive to attach the ends together. Done ✅ Wrap adhesive tape to the base of a chalkboard wine bottle. Start at the top to wrap the bottle with the rope. When you reach the bottom tuck the rope end under. Write something with chalk.
3. Metallic Candle Holders are gorgeous. I know it's not cheap, but have a look at different wine bottles at the store. Some good wine is selling in very gorgeous bottles. For such holidays as Christmas it's really big deal. I think some store are even lavish and you can find a sale on Christmas)
4. Glitter wine bottles are my fav one. I love them with flowers inside. How they are gorgeous in summer. All you need a white acrylics and a glitter. Just buy lots of different glitter to make the bottles different. When you are done with painting with acrylics, let the bottle get dry. Then use a glue for a bottom of your bottle and get your glitter empty on the bottle. Use a tape to help you with an angle. Done ✅
By the way, how can I forgot this, it is very important to remove labels from the wine bottles. Don't do crafting with labels. Your paint will look poor. Don't be lazy, I am giving you good tutorial how to easily remove the label from a bottle. Put the bottles in a 350 degree oven about for 10 minutes. Carefully remove from the oven and the labels should peel right off. It's really a great idea if you want to use the bottles for crafts or if you want to save the label from a special occasion. Happy crafting! :))