Lemon pie
February 16, 2017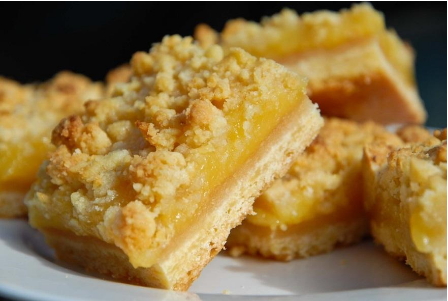 When life gives you lemons, make this delicious cake. Below you will find how to bake a cake with a coconut base and filling made of ricotta and lemon curd.
Ingredients for a base:
260 g all-purpose flour
½ tablespoon of baking flour
100 g chip coconut
140 g sugar
a pinch of salt
170 g butter, melted
1 egg, lightly beaten
250 ricotta
300 g of lemon cream or lemon curd
Directions:
Prepare the lemon curd beforehand and leave in the fridge. This curd can be used as component for desserts: as a filling for profiteroles, in cheesecake, for sponge cake or sand cake.

Ingredients for a curd:
4 egg yolks
100 g sugar
zest of 1 lemon
70 ml lemon juice (about 1,5 lemons)
a pinch of salt
70 g butter, diced
Directions:
Grind sugar and lemon zest by fingers, leave for 30 minutes. Add lemon juice, eggs and butter in small saucepan. Cook over medium-low heat, stirring constantly with a whisk, until mixture slightly thickens (about 8-10 min).

Remove saucepan with curd from heat and pour the curd through a mesh strainer into a bowl.
Add sliced butter little by little, salt and stir it.
Pour the curd to a jar and cover surface of filling with a plastic wrap. Store it in refrigerator as it should stiffen. You can leave curd up to three days ahead of use.
Combine all dry ingredients and sift them. Add melted butter and egg. Mix well.

Your dough will have a consistency of soft shortcrust pastry.
Mix lemon curd with ricotta with a whisk.

Preheat the oven to 180 C. Cover the baking pan with parchment paper and place a frame or square shape with sides of 20 cm. Roll the dough and place it in a baking form. Pour all staffing on the top. Sprinkle it with coconut chip. Leave the pie in preheated oven during 20-25 minutes. Let the ready pie to cool to room temperature. Do not remove the frame until your pie is warm, otherwise the cream may spread. Cooled cream will be quite dense.