How to make a beautiful greeting card handmade
March 17, 2017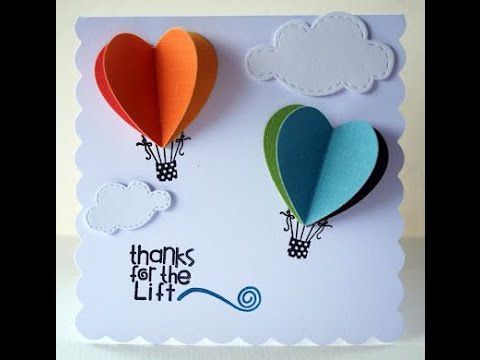 Greeting cards suits any situation. If you're going to a birthday party, if you want to greet someone, to support or to share your feelings – card can be the best choice ever!
And handmade card done with your warm and positive vibes will be even better! Here's a video which shows how to make a beautiful greeting card handmade. Hope you'll like it! Don't forget that the most important thing in your card is sincerity and genuineness!
 To prepare the card you will need:
 - Art paper and color paper: you can use those colors which shown in the video or pick your own – up to you;
 - Anti cutter;
 - Pencil;
 - Color pen;
 - Glue stick.
First make two hearts from red (or other) color paper. Bend a piece of paper, draw a half of heart and cut it out. Make two more hearts from the paper of another color.
Take your white paper. Add some glue to your hearts and paste them. Draw something that gonna look like a basket. Your hearts will look like air ballon!
Draw your greetings. You can use your imagination! Add some clouds to your card. You can just draw them and cut out from ordinary paper. Or you can use cottonwool. Paste them to your card.
To make an beautiful and accurate decoration to your card - use special ruler! Draw some lines and cut unnecessary parts.
When your card is ready, give it to the one you got warm feelings!