Handmade paintings on glass – for beginners
August 12, 2017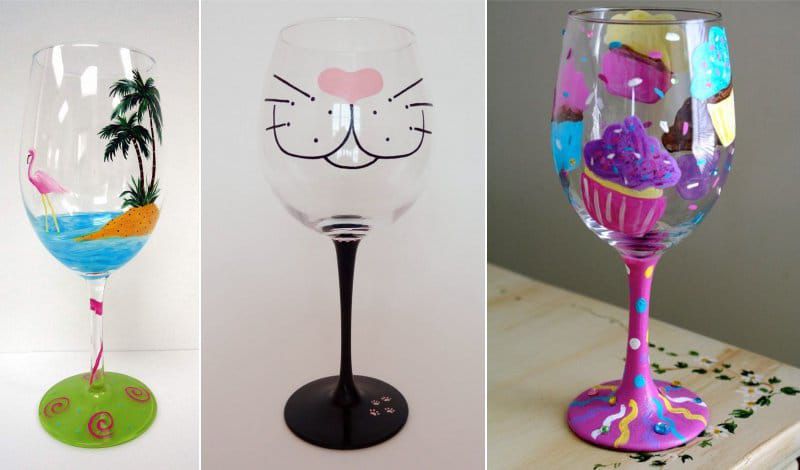 To decorate the most ordinary items, such as vases, dishes or simple wine glasses, you can use such method as diy glass painting! This technique is quite simple and will be looking very good. Especially as a present to some date or as a decorative stuff for your home.
If you are wondering how to do glass painting you should know some tips!
! The main difficulty in painting the glasses is to make sure that the paint does not spread and does not smear.
!Therefore, for painting on glass, you should use special colors: stained glass, acrylic, outline.
!A set of any type of paint can be purchased in the store for creativity. Also for painting are necessary usual squirrel brushes
of different thickness.
!You can also use sponges, wadded disks for drawing a
pattern, as well as cotton buds and toothpicks for drawing small details.
HOW TO PAINT GLASS: SIMPLE METHOD
This method of painting are suitable for beginners. For example,using a cotton swab and acrylic you can make a glass of confetti. Instead of acrylic, you can take a regular nail polish, but, as known, it is short-lived and quickly descends.
The technique of application is very simple: dip a cotton swab into the paint and put dots on the glass, starting from its foot. Try to apply paint more often at the bottom of the glass  and closer to the edges make rare single points in a chaotic order. You can use paint of different colors.
HOW TO MAKE GLASS PAINTING USING CONTOUR PAINT
Almost the same principle is used for dot painting with the help of contour paints. Tubes with paint are equipped with special spouts, so no additional tools for applying paint will not be needed.
What you need to prepare for work:
Glasses;

Contour paint of one or several colors (golden, silver, black, white);

Liquid for degreasing the glass surface (alcohol, vinegar, nail polish remover);

Cotton pad;

Patterns;

Scotch;

Wadding sticks for bug fixing.
Template drawings can be different - patterned or plot. The main thing is that they have as many lines as possible and as little free space as possible.
To fix the selected and printed drawing from the inside of the glass use an adhesive tape. Degrease the outer surface of the glass with an alcohol or other liquid. Start pointwise paint on large contours so that all points are the same size and at equal distances. Make a painting on small, additional, internal lines, applying small dots (you can change the color). Leave the finished work to dry (for about 24 hours). If desired, cover it with acrylic lacquer and dry. The original glass is ready!
HOW TO PAINT GLASSES WITH ACRYLICS
For art painting it us better to use acrylic paints and a brush. You can draw on the surface of the glass paints without some pattern, and also use a ready-made stencil, which can be purchased in the store for handmade stuff or cutted by the printed picture from the Internet.
To do the art painting, you need to prepare the following materials and tools:
Glasses;

Acrylic;

Brush or sponge;

Stencils;

Degreaser;

Cotton pad;

Scotch.
Work progress: how to make glass painting
1. Wet a cotton pad in alcohol or other liquid, degreasing surface, and wipe the glass from the outside using it.
2. To choose a stencil drawing or to make it yourself, (for example, a simple stencil in the form of a heart fits for the wedding glasses), fix it on the surface of the glass with the help of an adhesive tape.
3. Use a brush or a sponge to apply the paint. Unclip the stencil and allow to dry. If necessary, draw details (you can use point technology).
4. After drying, the glass, if desired, can be covered with frosted acrylic lacquer and allowed to dry thoroughly. As a stencil, you can use paint tape.
5. The strips of adhesive tape are glued so that the drawings or geometric patterns (strips, squares, triangles, etc.) are obtained.
6. The glass is painted over with paint and left to dry. After that, the adhesive tape is peeled off. You can use several colors: paint the glass, stick an adhesive tape and apply a different color on the top. It all depends on your imagination.
For those who wants more: You can make a picture on the glass in the technique of decoupage. For this purpose, a special decoupage glue is applied to the glass, on which the top layer of a paper napkin with a pattern is laid. Then the napkin is leveled with a soft brush and after the glue dries on the glass, the picture transferred from it remains. You can fix it with varnish.
If you want to share some methods how do you paint glass or how to paint on glass windows – please, leave a comment and i will be glad to communicate with you about this stuff.