In this article, I would like to describe how to sew the dress for a young mom. Although the figure of a young mom changes from month to month, it is possible to wear the beautiful dresses. A spacious dress like this will help you to stay beautiful both during your delicate state and after the birth of your child.
This delicate state is a perfect time for creativity and work on handmade things. You can also sew/knit a lot of details for a baby's wardrobe.
I prefer to tell how to sew a dress in a country style. Choose the length you like and buy the tissue for a dress.  Use the fabric of natural material for the dress: linen, cotton or jersey.
For this dress you will need:
Jersey
Scissors and threads
Sewing machine
DIRECTIONS:
1. Take the measurements. If you do this for the first time, watch some video with directions how to do this correctly.
2. Model the dress-pattern according to your measurements, or simply buy the sewing pattern in a handmade shop.
3. Sew the side seam and make the incisions for the armholes. Sewing the sleeves, make a marking for the armholes. You may also sew the ready-made sleeves.
4. When processing the neck, cut from the front to make it deeper and make the suture seam.
5. Make the small assembly on the neck and on the sleeves and sew up the strips with a width of about 10 cm.
6. Now you have to cut the cuffs and to sew them to sleeves.
7. At the final stage process the edge of the hem, make a bend of 1,5 cm.
Try on our beautiful and spacious dress. Why not to make the photo session in it? You can accomplish the image with handmade flower crown or beautiful accessory.
If you are still full of enthusiasm, make something beautiful for the future baby. Handmade baby-shoes, a knitted cap, or any other details of a baby's wardrobe will be very useful.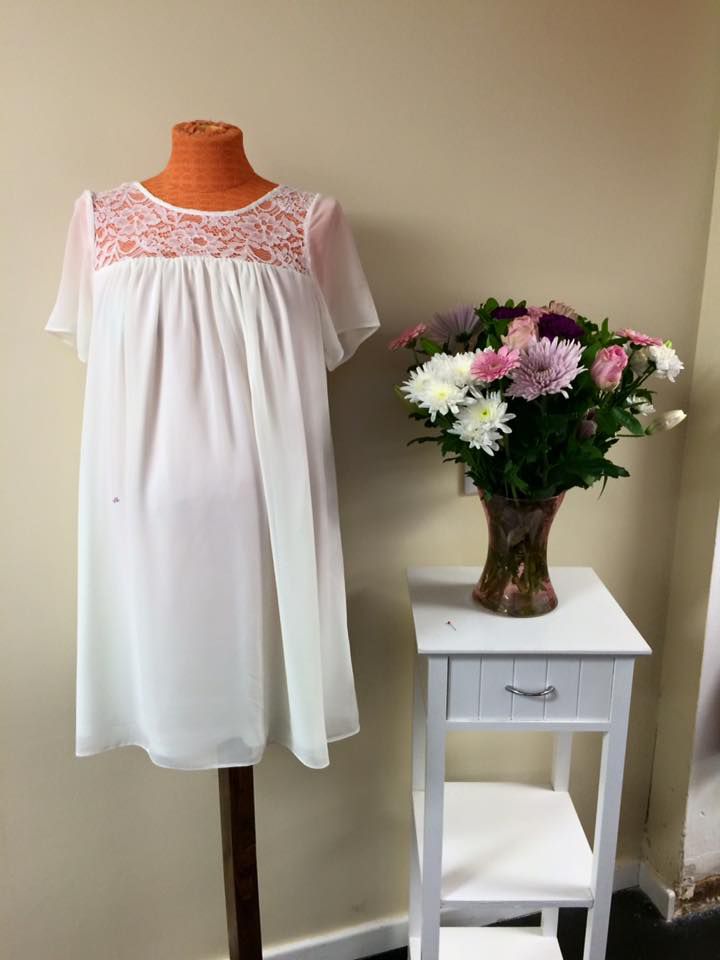 Pictures taken from: maternitydresshire@facebook.com