How To Make A Tie Blanket
June 9, 2016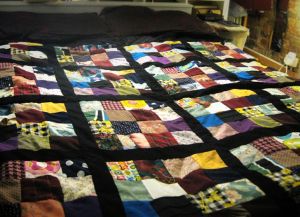 A long time ago there was technique of patchwork among folk crafts which is now called "patchwork quilt". It is a process of sewing together bright pieces of fabric, which results in new original thing. In this article you will learn how to make a tie blanket.
Before you start creating your tie blanket you will need to prepare:
fabric: for patches and edging (black);
batting;
tools: scissors, tape measure, pins and sewing needles, irons, sewing machine and thread.
Let's have a look at tie blanket sewing scheme:
We need to cut 256 squares (8x8 cm) out of the selected fabrics. It's better to spread them out by color for your convenience.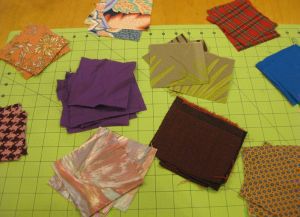 We approximately compose the first block from 16 pieces of fabrics (4x4 pieces).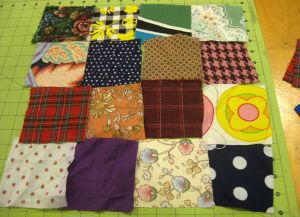 We spread out the squares by separate vertical rows and tie them from the back side. We get 4 separate stripes with 4 patches.
We stitch edge of the last square not to let it fray.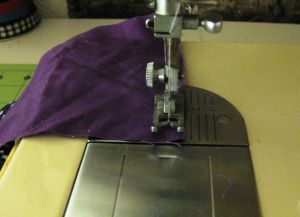 We take 2 rows and tie them together.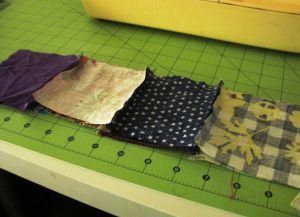 Continuing to sew the rows, we get the first block in the form of a large square.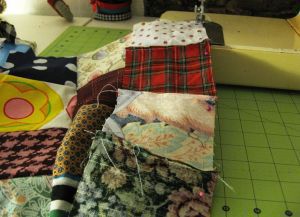 Repeat steps 2-6 to get another 15 blocks (there should be 16).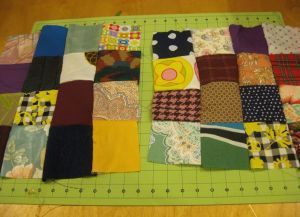 We make 20 pcs of 40x8 cm black strips and 5 strips of 2 m x 8 cm.
Alternating short black stripes and 4 blocks, we sew them into one line. We will get 4 strips.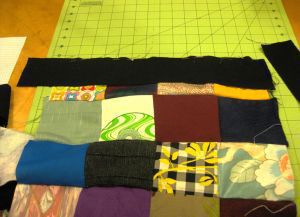 Take 2 meter black strip and sew it to the top edge of the previously created strip of squares.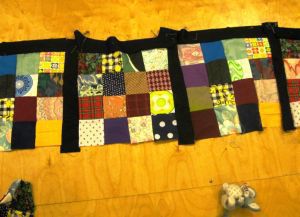 Then sew the remaining 3 stripes with squares, alternating them with narrow black stripes.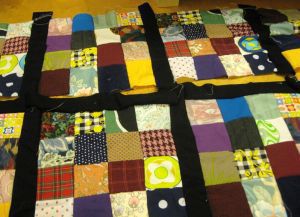 The blanket tracery is already coming up. To make your blanket look more accurate, flatten it out with the iron during operation. To complete the picture there should be a black strip on the edges on all sides.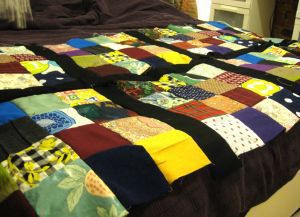 Take a piece of batting and begin to sew it to three sides of the blanket's back side. Then turn the blanket inside out and sew it the fourth one. It is necessary that you do edging as well. You can leave more batting at the edge for beauty (15-20 cm), then the blanket will be longer.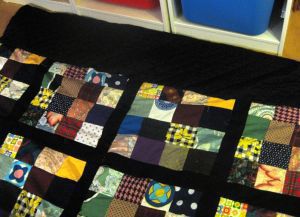 Of course, preparation of parts, composing and sewing quilt is pretty time consuming, but the originality of the result will definitely please you. Patchwork technique can be used not only for sewing quilts, but also for creating decorative pillows, bags, mats and even clothing.