How To Make A Snowman
May 29, 2016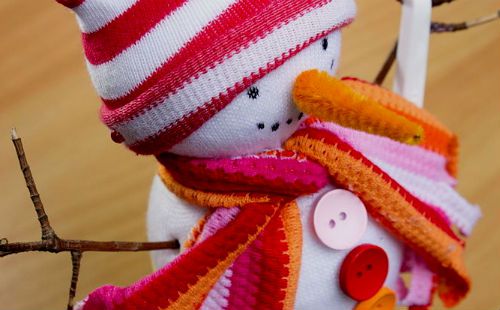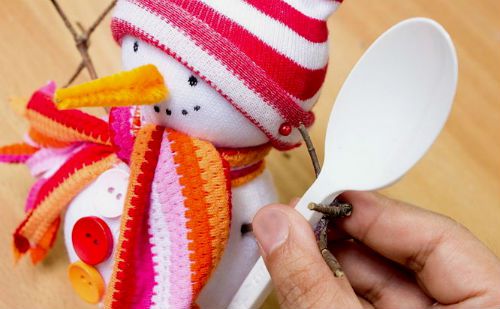 To get a plausible snowman from a sock, the following items must be prepared:
A white sock;
Two foam plastic balls (they can be replaced with cereal grits, see below);
A toothpick;
Scissors;
Straight pins with rounded heads;
A scrap of striped colored cloth;
An orange downy bending wire (one can replace it with a skewer painted in orange);
Colored buttons;
A glue gun;
Threads;
Black gouache with a brush;
Two dry branches;
A plastic spoon.
The way to make a snowman of a sock.
The handmade snowman of a sock will consist of two foam plastic balls. Therefore, join two foam plastic balls with a toothpick. Slip on a white sock from the top on both balls. In principle, foam plastic balls can be replaced by any grits– rice or buckwheat, you just pour it into the sock, divide with your hands into two parts and tie a ribbon scarf in the middle.

Cut off the sock and fasten loose ends with a pin to the lower foam plastic ball.

Cut a ribbon from another striped sock or a scrap of cloth, tie it around the neck of the snowman, between the foam plastic balls.

Slit the ends of the scarf to get a fringe and stick the ends of the scarf with a glue gun to the snowman body.

Take one more striped sock, cut a little piece from it, make a cap of a tip type from it with help of threads. Put on the cap on the head of the snowman, having fastened it with pins in sides.

The nose of the snowman can be made from a bending downy orange wire, to make it, trim fibers with the scissors so that they would get conical shape. You can also make the nose from a skewer, having painted its little stretch in orange. Create a hole with the scissors in the front part of the head, drip some glue to insert the nose.

Draw eyes and dots in the place of the mouth with black gouache.

Create holes on both sides of the body with the scissors, drip glue there and insert branches into them, thus, the hands of the snowman are made.

Stick colored buttons to the front of the body.

Stick the plastic spoon to one of the hands.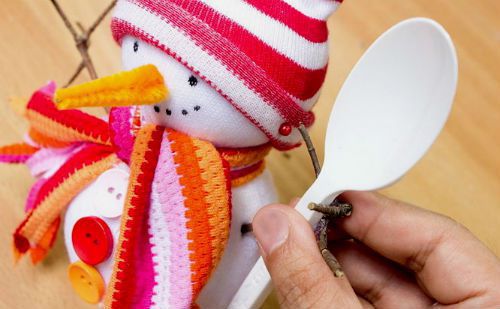 That`s it, the snowman from a sock is made!