Recently I bought a book «Tips for Knitters» by Debbie Bliss. It inspired me to write the few articles for knitters.  Below I list some useful knitting tips:
If you need to knit with a facial (damask) stich, knit the first row with 1x1 ribbing, then the edge will not be curled.
If you sew the hinges with a suitable, thin, strong thread, they will not tear any longer.
If a suitable piece of cloth is pressed from the underside of the buttons loops, the knitted fabric will retain its shape for a longer time and not stretch out.
If you have to hide the ends of threads, you can make it with a crochet.
To the edges of the lining of the coat and skirts are not twisted, they can be treated with the bias binding.
Angora-related products will last longer in shape, if you add a suitable color silk sewing thread.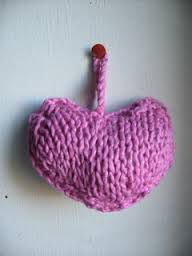 If you knit a pullover for kid, then add an additional thread to the thread on the elbows. This will give the sleeves strength.
If you start knitting from the end of the thread, which is in the middle of the clew, then the knitted fabric will be smoother.
To ensure that the neck does not stretch out, when closing the loops add a thin elastic band to the working thread.
If you want to avoid tedious counting of loops, additions and decreases when knitting the sleeves, knit the sleeves on the same needles, but from individual clews, so that you will be able to make the additions and subtractions simultaneously.
If you need to buy yarn and you cannot find a skein from the desired batch, knit alternately 1 row of old and 1 row with a new thread. After a few rows of this knitting you can continue to work with a new yarn.
Use the special sorts of yarn to knit the socks. Add the additional thread when knitting a heel and toe.
If you do not have the remains of yarn to knit the heel and toe of the socks, then take a bright thread of contrasting color. Colored heels and toes look very stylish.
Pictures taken from: http://www.knittingtipsbyjudy....