At present, the mirror is an inalienable attribute of any living room, the purpose of which is not only to admire its reflection. The mirror is also an important element of decor and decoration of any interior. Often, industrial mirrors cannot fully emphasize the individuality of the design of the room. And here, DIY mirror frame ideas come for the help.
Naturally, if we talk about the decor of the old mirror with our own hands, we should not mean a forged frame or a frame made of, for example, mahogany. There are many ideas for decorating mirrors with the use of easily accessible and relatively cheap materials, which will allow you to make your own original decor element.
How to decorate a mirror to enjoy ourselves?
In a modern house or apartment, mirrors are equipped with almost every room: an entrance hall, a bathroom, a bedroom or a nursery. Depending on the location in the house, the appointment of mirrors can be different, but they are united by the fact that modern people simply cannot imagine life without a mirror. This household item should be in the living room, although many people believe that this is not so.
Mirror in a beautiful frame is a bright accessory of any interior. If you have accumulated a large amount of jewellery, which you no longer use, but it is expensive as a memory, it can decorate ordinary things and interior items that have long become unattractive. Artificial jewellery stones and beads can revive an old mirror or picture; decorate a wall or pieces of furniture.
It should be noted that this work will require not so much skill in a certain field as a presence of a developed fantasy and good taste, as well as a creative approach to the matter.
The decor of the room with an unusual mirror: 20 ideas
At first glance, it seems that all the mirrors are similar to each other. This can be avoided by the DIY mirror. Let's consider the most widespread variants of an ornament. The decision to equip the walls of the room with mirrors often leads to problems caused by the need to purchase a product of a certain size, shape and design, so that it harmonizes with the interior of a particular room. Decorating mirrors with your own hands helps to solve this problem.
A wooden frame for a mirror with your own hands.
The tree looks great in almost any interior. The so-called mirror-sun will look the original for any interior. It is made with the help of small blocks or twigs made of wood. The branches you can replace with wooden clothespins.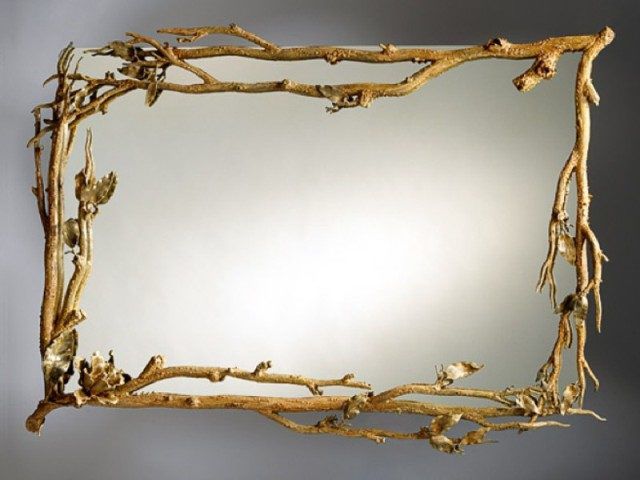 Decor with paper.
Round and small mirrors can be decorated, using packaging from eggs. This solution is very original and requires the very little cost. It will be necessary to cut out each individual cell, glue the flower and glue them with a mirror.
Frame for the mirror of the rulers of metal.
The original idea of DIY mirror decor is a frame made of metal rulers, which are also arranged in the form of the sun. The standard rule of decorating the walls with mirrors: if the products are large, then there should be few. For example, to decorate a large mirror, you can glue toy cars to it, painting them on top. One item, decorated in this way, will be enough for a room.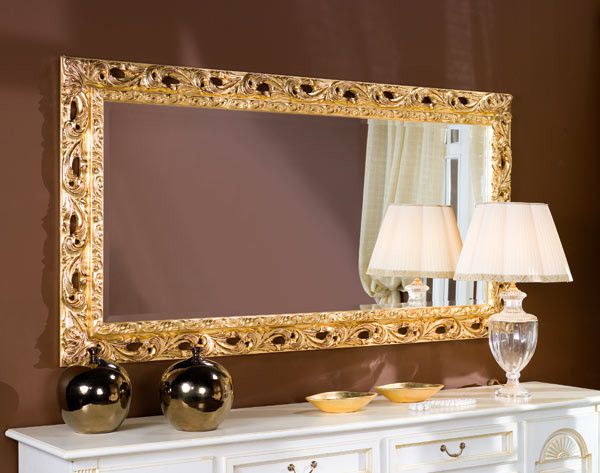 Original frame for a mirror from old toys.
Fantasizing and using ordinary objects that are at hand at the moment, it is possible to decorate the mirror to make it look unique and at the same time keep a part of the enclosed soul and heat.
Decorating the mirror with shells.
Before starting work, make a picture of the shells, attaching them to the decorated surface. The composition can both have and not have symmetry. Maximize your imagination when creating a drawing.
The decor of the mirror with mosaic
To personally decorate the mirror in the bathroom, you can use a mosaic of glass or ceramics.
Decor round mirror with a frame of pipes
A very stylish and modern frame for decorating a round mirror can be made with conventional pipes for water supply. We spread the rings with any form as you like. The rings are fastened with an adhesive gun, which will provide an invisible fastening.
Mirror with lace
A frame of paper lace looks very unusual at home. It can be purchased at any store, where disposable tableware is sold. Take the lace from the paper for the cake and steal them with aerosol paint. Dry well and with the assist of double-sided adhesive tape do the frame.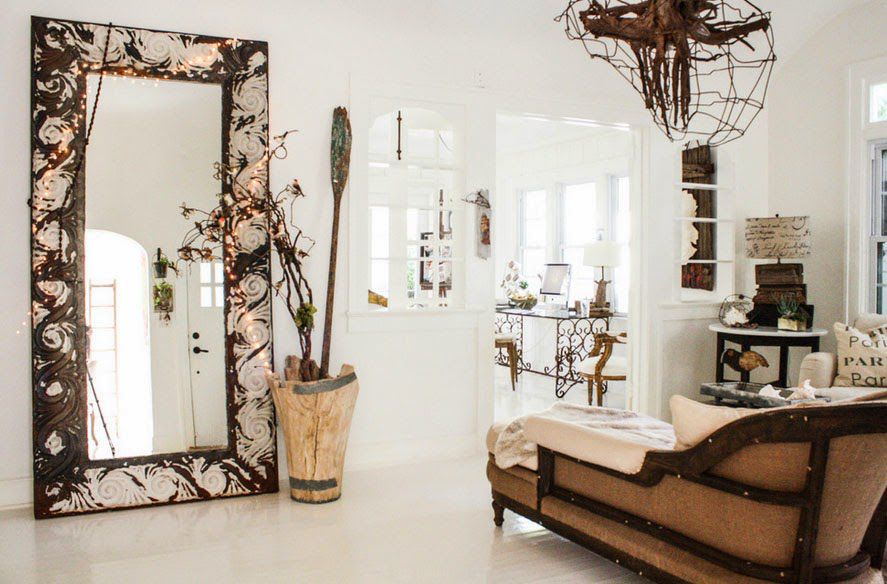 Decor mirrors with petals
The frame for the mirror DIY can be decorated with artificial petals, they are usually sold in packages in goods all for decoration.
Decor mirrors with gold leaf
An unusual and modern mirror will come out if you decor its edges with gold leaf. If you do not find it - you can take the usual thin foil.
Mirror-sun in Art Deco style
The basis of such a decor is wooden material. If after the repair you have pieces of bars or boards do not throw them away but make an original decoration for the hallway or living room.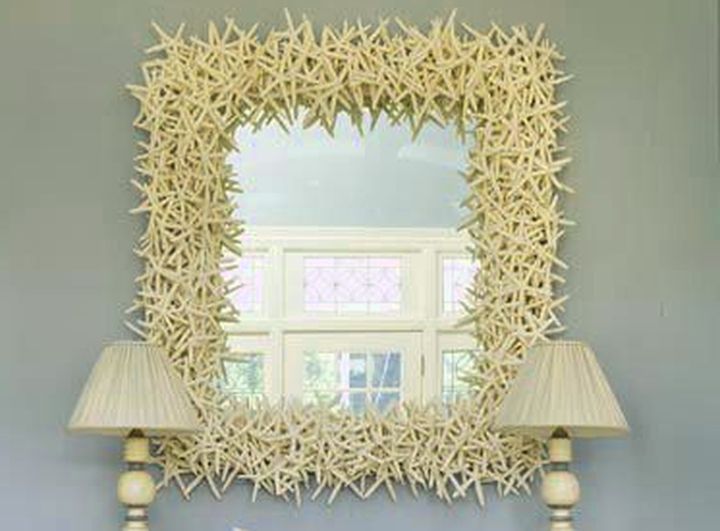 Pop-art mirror
For decorating of such mirrors ideally approach glass stones, crystals, coins, beads, pearls, and buttons. Just stick them on a wooden mirror frame.
Mirrors with stucco
It is used for historical styles (baroque, classical, retro, etc.). As an interior decoration will fit perfectly the gypsum stucco or its contemporary imitation with characteristic swirls, which cover with gilding.
Sea pebbles
For the decor of the mirror, you may utilize sea pebbles. It can be glued directly to the mirror with silicone adhesive. Or you can cut out a thick cardboard base, which is glued to the mirror. The upper part covers with stones and then glue both parts together.
In the marine style
Similar to the previous you can perform the frame for the mirror, made of thick rope, that perfectly fit into the interior in a marine style.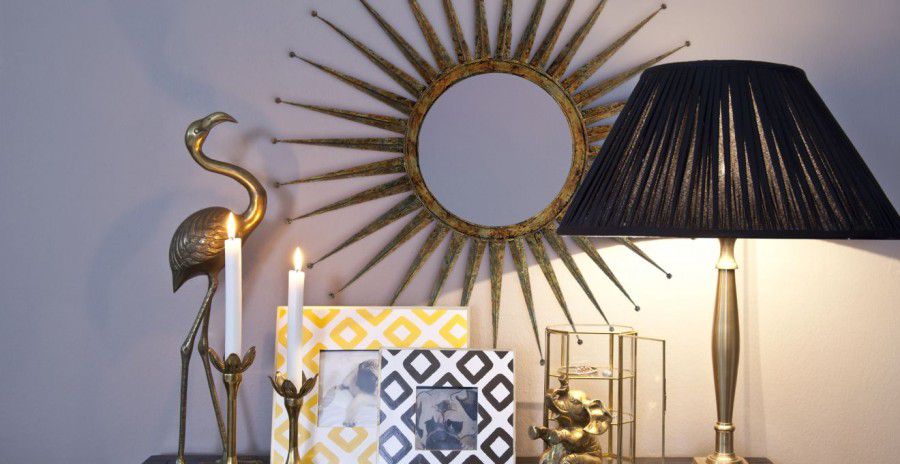 In stained glass style
A similar mirror, reminiscent of stained glass techniques, is easy to do by yourself. To apply dark lines on its surface, use a special glass paint or black scotch tape.
Futuristic mirrors from the future
To fix several mirrors you can use a single base. For example, it can be wooden. Simply glue the mirrors with silicone adhesive.
Return to nature
Short branches will be an excellent material for the decor of the mirror, especially if you paint them in a bright colour. They can be glued directly around the perimeter of the mirror or the frame.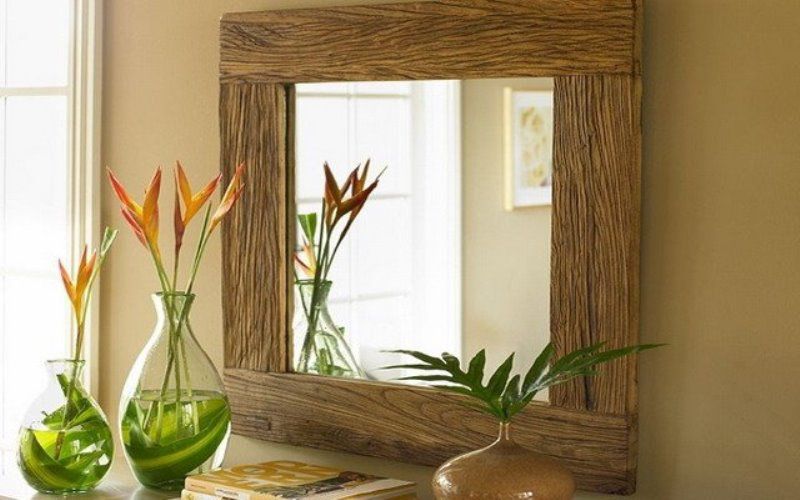 Spring is close
If you love flowers then create a delicate frame for the mirror from them. But take artificial. Also, the composition can be supplemented with green leaves and fruits.
Decor for kitchen
Cutlery, which has not been used for a long time, will become an unusual material for the decor of the mirror. An ordinary dish can be used as the basis for this composition. To it, you may glue both a mirror and cutlery.
We hope you find out how to decorate a mirror without a frame. The methods are very simple but original. Believe me, you will look at such a mirror and rejoice that you have done it yourself.