We all have accustomed things in our apartments, haven't we? But very often we still lack something. Of course, a table for tea or coffee will be an excellent addition to our interior. There are various plans for making this object.
If you desire to produce an extraordinary object like the DIY coffee table you may take any materials: from wood to slope. The main required tool that will assist in this is a fantasy. However, there are both simple and complex table options, all of which are presented below.
10 plans to improve your thoughts
Diversify the interior in the house is simple and it does not need to spend a lot of money, unless - a little time. So how to build a coffee table? Below you can see what tables can be made.


Table from drawers
The scheme of a table from solid boxes makes it possible to make a quaint thing in a short time. It will please the households and guests who will appreciate the creation. It is necessary to clean the boxes with sandpaper and varnished for the preservation of the surfaces from external damages. And then nail the board and legs.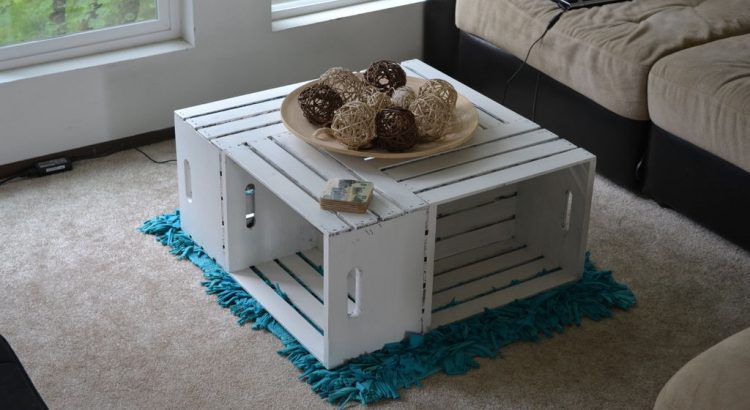 The table from pallets
Such table is the most materially profitable, ingenious and quaint version of furniture that can be appropriate for many styles of interiors. You can use wallpaper and decorate the table with them. And this will be a very interesting idea. After all, pallets cannot always fit into the interior of the room. But the wallpaper on the table such as on the walls will be a very interesting decision.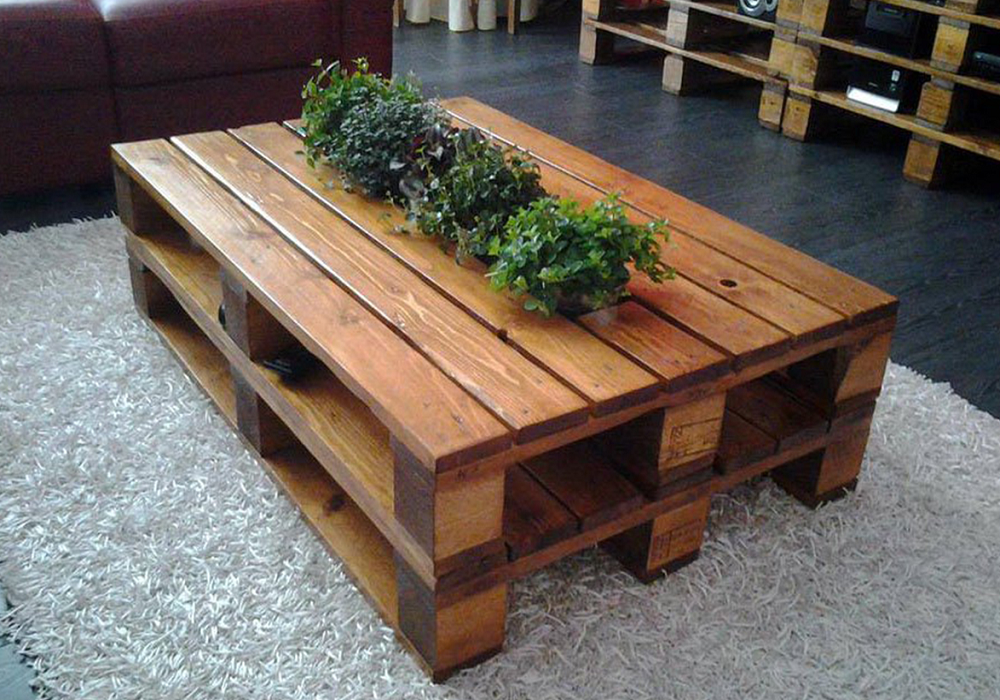 Table of logs
If you think about how to make a coffee table then the coffee table will look good in a simple style. It will be suitable for the interior of the cottage, a country house and a city apartment. Such an object will lift the mood to all dwellers and guests. Manufacturing does not require special knowledge and effort.
Marine style table
This thing will be your beloved thing. You will at the same time get the fondness, perfectibility and originality in the "heart" of your room. You will only need some legs and the part of the slope on which you can glue anything from the sea: sea stars, shells, pebbles, and the like. Drinking your favourite drink all year round on this table, you will remember the warm sea, the sea surf and the lunar track.
Table-case for travel lovers
A very original solution for an old but beloved suitcase that saw other countries with you and which you do not want to throw away through memories. Just nail any legs to it and everything is ready. In the middle of this table (in a suitcase) you can store magazines or curious books.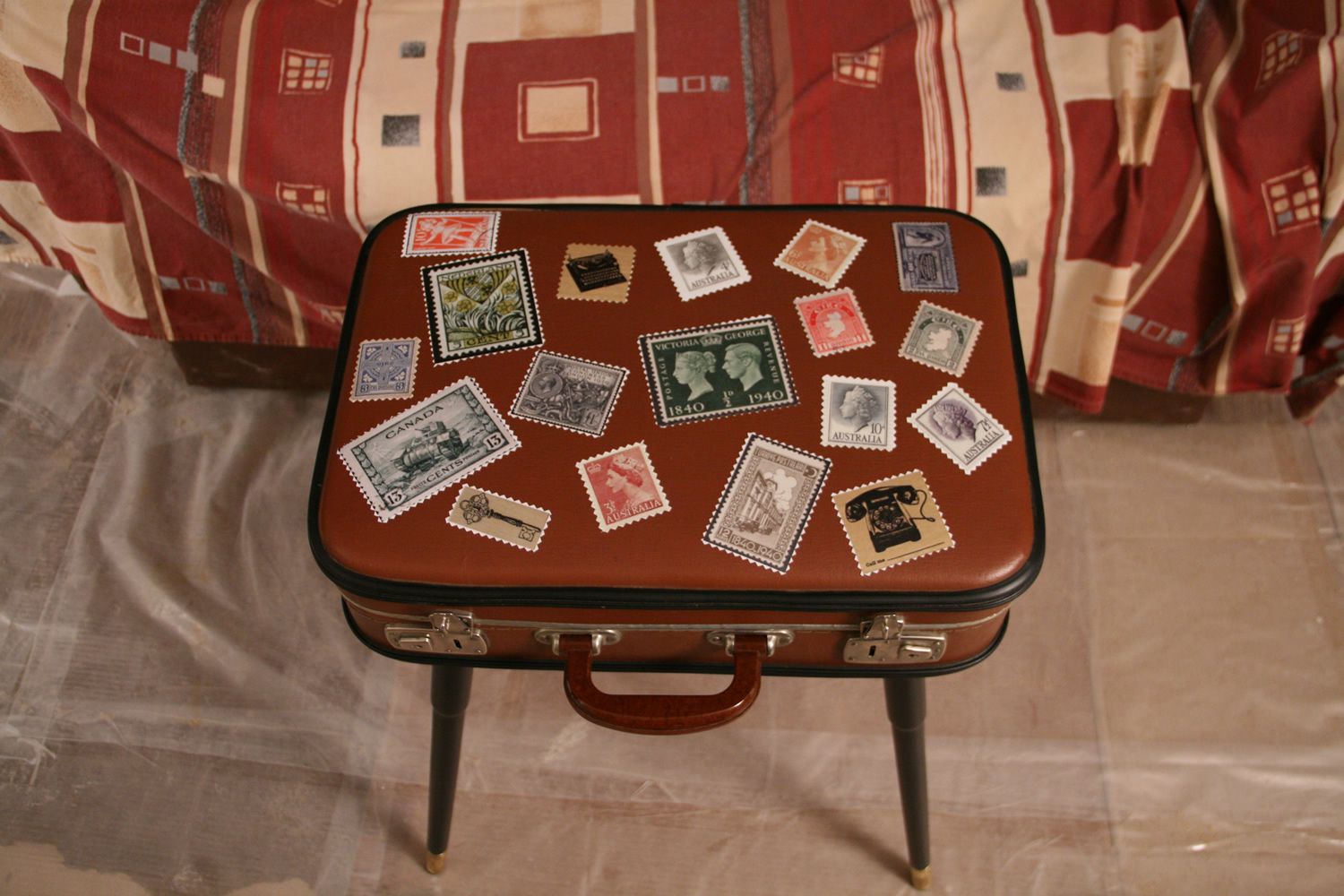 A simple wooden table with original design
DIY coffee table plans can be the following. You can make a simple table from a wooden board. And then stick on it pictures of children's puzzles. Imagine how interesting it is for a child to drink tea on it. These are memories and original fantasies. After all, children will grow up and go into adulthood, and when they arrive, you will drink coffee together and remember how you together made a puzzle.
If you have an old window, then it's perfect for your idea. Just draw the frame to the appropriate colour and attach the legs. And then you will see that this will be a preferable designer option to do such an object.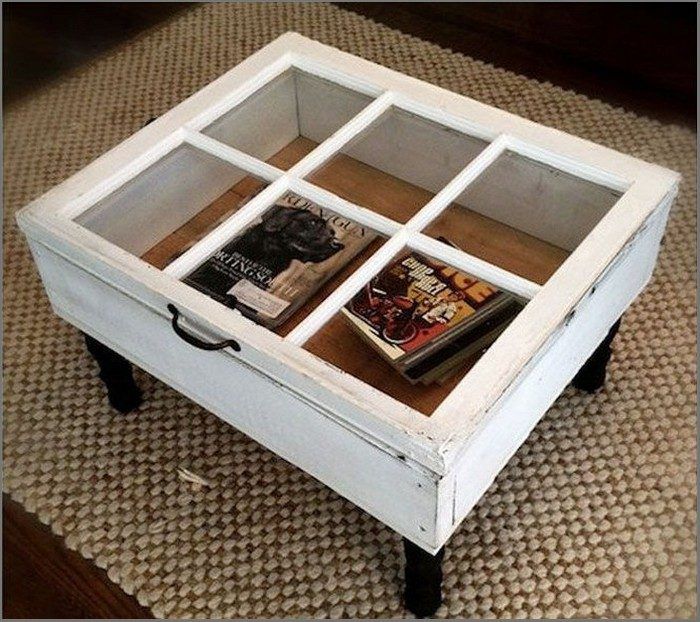 A table of books and waste paper
If you have a lot of old books or magazines then you can use them for a table. Take a few sheets, put them in a tube and tie them with an elastic band. Then all the tubes are glued together. At the top stick a glass, or even an old mirror. Get a very original thing.
Unusual coffee table from magazines
To build a coffee table, take all the old magazines (preferably one-piece size and shape) and place them on several columns. Then stick these columns together to one another. You can stick them evenly one by one. And you can come up with something chaotic or chess.
Tire and rope table
If you are a driver, then, of course, you have an old tire from the car. You need to take it and stick round board or other solid foundation from above. Then take a rope with good shape and size and wrap it with a tire. Do not forget to lubricate the tire with glue beforehand. If you come up with such a table to the design of your home, then you can easily start work.
Do everything with inspiration!
The interior issue has always been and will be a matter of first importance for a good owner. Any decision must satisfy the need for comfort and please the eye.
So one of the nice items is a little table. This extraordinary piece of furniture is not only a necessary item of everyday life but also a stylish design solution.
A coffee table is a very necessary and practical thing in any home. You can put flowers on it, which will give comfort or tea dishes when guests come to you. In order not to spend a lot of money to buy it, you can make a table yourself. And now you have much coffee table plans.
There are many stores and services for ordering furniture. Sometimes it's difficult to choose a store that meets all the needs of the buyer. Therefore, it is better to do anything for yourself. And you will be sure that you will like it.
Imagine bolder! The original tables for tea drinking can also be made from other handicraft materials. The more creative the product will look, the more positive emotions you will feel when looking at it. Decorate your home with unusual homemade furniture, creating unique interiors. Good luck!