How To Make Mermaid Tail
May 30, 2016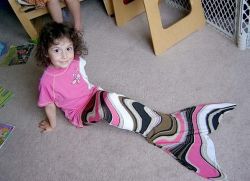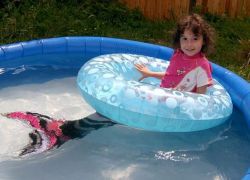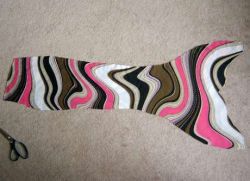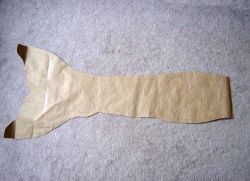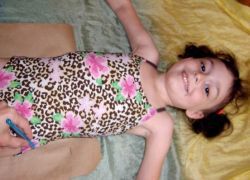 Everybody knows how the mermaid tail looks tightened in the fitting scales of a foot, with one big fin on the end.
It will be necessary for you:
an elastic, well lasting fabric for the mermaid's tail, color depends only on your imagination. If you wish that everything looked as realistic as possible, choose the poured blue-green fabric;
strings of the same shade, as material;
linen elastic band;
paper for a pattern;
waterproof glue;
slates suitable by the size for future Little Mermaid;
thin flexible plastic for a fin (it is possible to buy in construction departments), or at once a ready fin (if it is good to look, it is possible to find in nurseries, or sports departments).
Get to the work:
Make a pattern of the mermaid tail. For this purpose simply put for whom this tail on paper is sewed. Let your model will a little side feet aside, absolutely slightly. It becomes in order that there was an opportunity to move in the tail with feet. Now lead round a contour, from a waist to a foot. Before cutting out, add a little for allowances for seams. That's it, the pattern is ready.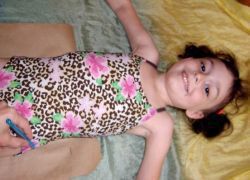 Impose a pattern on fabric and cut out your tail of the Little Mermaid.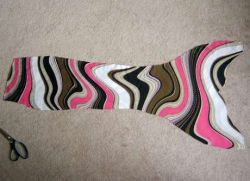 In order that the tail fitted on a figure well, sew rings inside from a linen elastic band. For this purpose measure hips, knees and calves cramped together. To these measures cut an elastic band and, accurately so that it was not noticeable, sew it with a weak stretch in a tail. It is possible to try other option. Instead of elastic bands sew elastic stockings in a tail. Choose that you like the most.
Pass to a fin. For that too it is necessary to make a pattern. Only it is not obligatory to potter with paper now, you can draw at once on plasticity.
On one of sides of the cut-out fin paste slippers.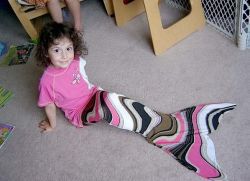 The turned-out fin (or ready bought) needs to be sheathed fabric. Do not forget to leave the socket for feet. For convenience, in that place where the fin will connect to a tail, it is possible to sew a lightning. If you are ready to experiments, try to pick up fabric for a fin in some more dark shades, than the tail will be.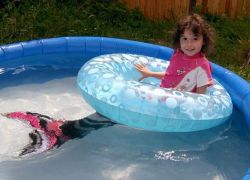 Well, here it is. The false mermaid tail  is almost ready. Now it is only left to decorate it. For ornament it is possible to use anything: beads, paillettes, pastes, tapes, laces - the list is huge.