Rocks are an essential part of many landscape designs, ponds, artificial waterfalls, and so on. Besides this, they are often used for decorating walls, creating fences and different edgings. No wonder that people all over the world are looking for different ways to simplify the work with rocks as they are heavy and rigid. That is why the idea of making fake rocks was born.
As a rule, fake rocks are lightweight, which makes them easy to be used in different ways. With the emerging of such rocks, many craft and design projects came to life. Knowledge of how to make artificial rocks opens lots of opportunities. This useful and practical skill will definitely come in handy to anyone who has a yard, house or apartment to decorate.  
Here are several recipes for creating fake rocks easily with the things and tools at hand.
Waste polystyrene packaging
Making fake rocks from the polystyrene is an easy process. It does not require hard skills and anyone can master this technique. Let us have a detailed look at how to make the polystyrene look like a rock in several steps.
Take the three parts of sand and one part of cement and mix them up.

Add a black mortar dye and waterproofer to it and mix it thoroughly.

Take a piece of polystyrene packaging and roughly cover it with the prepared mortar. A small trowel will help you to do it easily.

Once the satisfactory shape is gotten, add several deep trowel cuts to make your rock look more naturally.

Use a stiff brush to pit the surface and create a plausible texture. For the same purpose, use a plastic bag. Go over your fake rock with the tapping moves to create the surface, smoothed with water and wind. Work with a plastic bag and a brush until you get the desired surface.
In the end, let it dry and solidify. You can use such fake rocks for your landscape design, to create a fancy fence, decorate a pond in the yard, create an Alpine hill, a lawn or build an excellent garden waterfall.
Foam rocks for your facade
To create an interesting facade, decorated with rock, there is no need in dealing with hard and rigid rocks. You can use a foam base to create impressive rock-like elements for your design. All you need is a Plastic Concrete Stamp (you can buy it online or in any building store), EPS foam, a hot knife, torch, spray paint, and glue.
First, put a stamp against the wall you are going to decorate and draw the contours of the future rocks on it. Then, put the same stamp over the sheet of foam and press it to get the outline. After that, use a hot knife to cut out the foam rocks. For this purpose, you can use the Hot Scroll Table as well. When the bases of the future fake rocks are ready, melt their edges with a torch.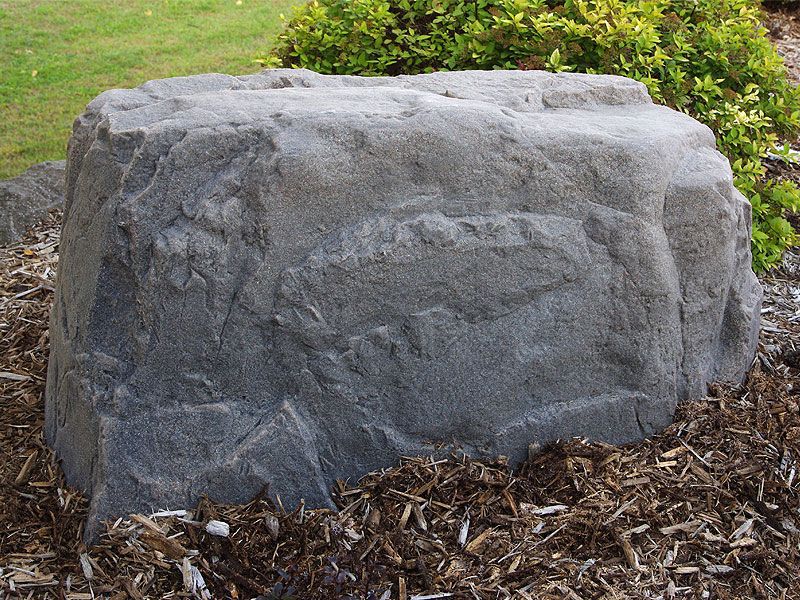 Now, it is time to get down to painting. It is expedient to use a water-based spray paint. Apply several layers of different shades of gray, black, and brown to get the real-like rocks. However, be careful: too much paint can melt the foam.
Once the DIY rocks are ready, glue them on the wall according to the contours, drawn at the beginning. Do not apply too much glue to prevent melting of the foam. That is all. It is possible to use such "rocks" to decorate any wall you want.  
Artificial rocks from the newspapers
Everybody has old, unnecessary newspapers at home. Most people just throw them away when the crafters use it for their diverse projects. Making fake rocks is one of such crafts. There are several ways to build fake rocks by using newspapers. Here are the two of them.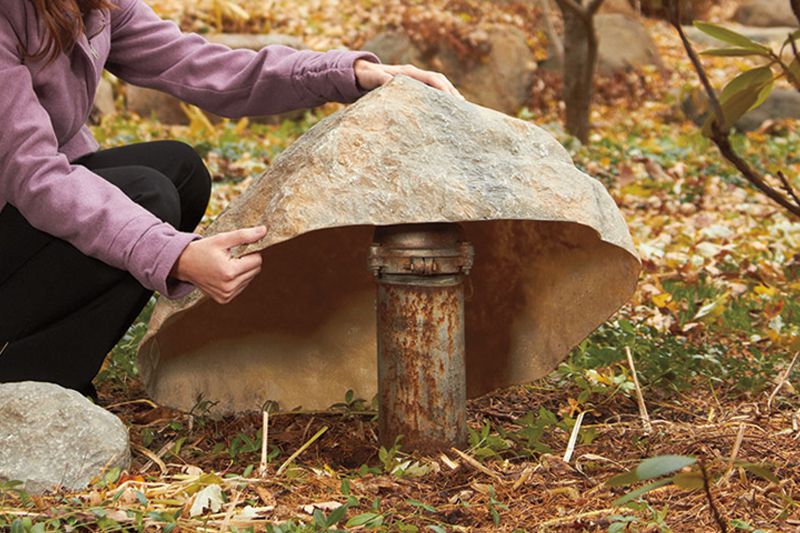 Mortar rocks
To create an artificial rock, you will need:
A bunch of newspapers;

Glue;

Chicken wire;

Mortar.
First, crumple the newspapers to get the desired shape and size of the future rock. Use a glue to keep the crumbled newspapers together. Cover this cluster with the chicken wire to ensure the firm base.
The next step is to prepare the mortar. You can use the recipe mentioned above or any other you know. When the mortar is ready and well stirred, apply it to the rock "stuffing". You either can do it with a small trowel or directly with your hands covered with plastic bags. It is expedient to decide which side will be the top of your rock to focus on that part.
Do your best to get the realistic rock surface. Do not make it ideal even or flat because the rocks usually have dimples, cuts, and other roughness. Once the proper surface is formed, let the mortar solidify in a dry place. The period depends on the storage conditions and the thickness of the mortar's layer.
Wash the dried rock, smooth the sharp edges, and decorate it. Then, break the bottom of the rock and take the stuffing out. Your artificial rock is ready.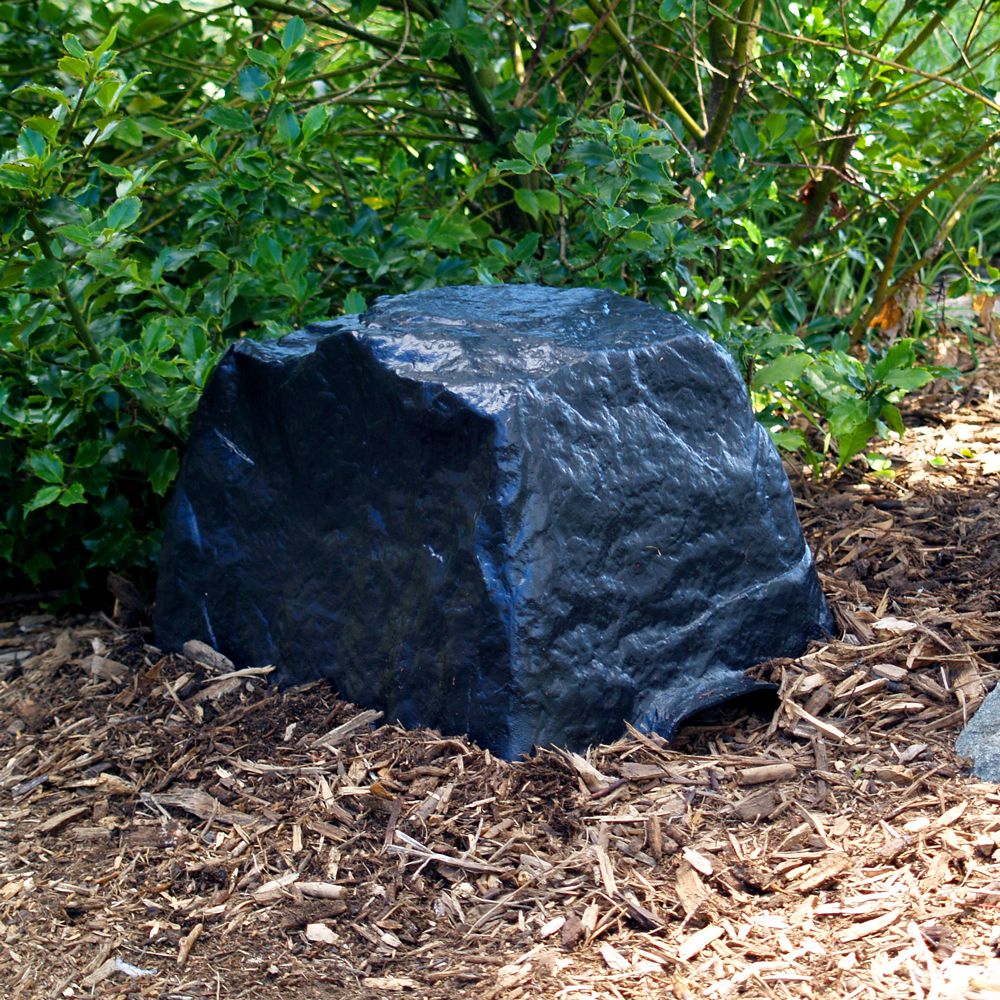 Rocks from papier-mâché
If you need a small fake rock for your indoor crafting projects, you can use a papier-mâché technology. First, tear the newspapers into pieces. Then, prepare the adhesive substance by boiling water with flour (you can replace or mix it with a cornstarch). Once the "glue" gets a cream-like consistency, take it away from the fire and let it cold down.
Use a chicken wire to form the rigid base of the future rock. Then, soak the pieces of newspapers with the adhesive, and cover the base with it. Shape the future artificial rock by gluing more or less paper on different parts. After that, let it dry.
Once the rock is solid, brush and grind it to ensure the realistic surface. In the end, paint it with a spray paint. If you choose the proper colors, your rock will look like a natural one.
It is obvious that there are many different ways of making fake rock. Some of them are simple enough for novices when the others require some practice and are used by professionals. However, all of them are interesting, funny, and do not require some special investments. So, there are no reasons to refuse to build artificial rocks.