How To Make A Venetian Mask
June 24, 2016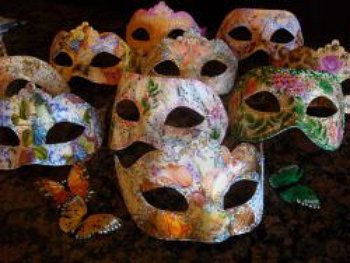 Venetian masks have long ago ceased to be used only during Venetian carnivals; nowadays they can become an attribute of a Venetian style New Year party or a decoration for birthday celebrations. Handmade Venetian masks will make real furore, so, do not be lazy and show your enthusiasm. A workshop "Venetian Mask" will help you with it.
Plaster Venetian Mask
Firstly, let's see how to make a plaster Venetian mask: you will need plaster bandage, water, rubber gloves and a helper. Plaster bandage needs to be put right on the face. Grease face skin, lashes and eyebrows with vaseline, soak the bandage in water a little and cover the face with a few layers, following all curves and shapes. Leave it on and breathe with mouth for about 20 minutes until the bandage solidifies.

Take the mask off, let it dry a bit and continue the work. Firstly, sketch the outlines of the cuts and cut the excess edges off. After that, make a neat cut line.
Check if the mask is symmetrical and cut the shape out. You can use a toothed knife or a wood cutting machine. Make eye holes with a drill and cut the corners off with a knife.

To make the surface smooth, you can stick some bandage on it and then cover with caulking. Now paint the mask, covering it several times with white glossy paint and smooth out all irregularities.

A basis for a Venetian mask is ready, now you can get down to decoration. At first, paint the mask in silver color both inside and outside, and after it dries off, glue some Oracal, creating a pattern. Paint the uncovered parts black.

Think of how you want to decorate your Venetian mask. In this case, take black finishing tape and stick it along the contour. It will not only decorate your work, but also hide some imperfections if necessary. Attach sateen bands as laces and you are all set for a carnival!

Plastic Venetian Mask
You can make Venetian carnival masks of plastics - a mass which solidifies after baking. Cut a template for the mask out of cardboard, roll out a layer of plastic about a few millimeters thick, put the template on and carve out the shape neatly with a knife. After that, give the mask a natural shape. You can use another mask or even your face for it, or take the prepared cardboard carcass. Similarly, make holes for the laces and put the mask in a stove.

When the mask is very firm, paint it and add some interesting details – beads, rhinestones, sequins. You can make openwork decorations of modelling clay which solidifies without heating. Venetian masks are often decorated with feathers, so, they would not be out of place as well.