DIY flower of zipper
May 30, 2017
Handmade flower of zipper could become unusual and creative decoration which will bring you so much fun! You can create it as a gift and surely surprise someone you want to give it! Such handmade stuff done from ordinary things which you never thought that way - are my favourite, so let's start working!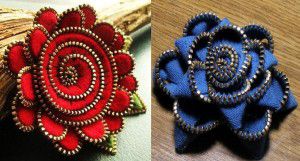 Zipper can be ideal for handmade purposes, because it can be purchased at any sewing accessories store. Especially popular are flowers from zippers. Such handmade flowers can be used for decorating your sweater, as well as handbags. Handmade accessory will look very beautiful and elegant in the hair. With the help of set of such flowers, you can even make a denim bouquet. In general, no matter how you use a handmade flower of zipper, it will look unusual and creative!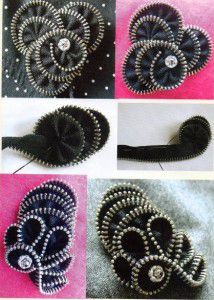 What is required to make a flower of zipper?

- zippers;
- a needle;
- scissors;
- glue.
You can make handmade flower from  zipper in two main ways.
1 Method:
For such craft, you do not need a whole zipper, but half of it. Before starting work, it is necessary to unzip and cut off one part. Now one edge of zipper should be rolled around in a circle and sewed to an end of segment. The thread, it is used for further folding on same principle. Next you need to roll up your zipper so it looks like the "infinity" sign. We continue to connect other "petals" of flower and gently sew it with a thread. When all petals are ready, you can start to finish middle, without cutting off any part of zipper, but simply folding it in a spiral. Turn over zipper into a flower.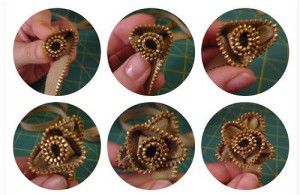 2 Method:
In this version you should use a full zupper length of 50 cm, and not even cut off the slider. You just need to stretch base, but not to end, and immediately form two petals, which are sewn with a slider at bottom of a flower, as if it is a stalk. Fold other petals in the same way, overlapping each other and creating a 3D effect.