DIY Easter eggs decoration
March 27, 2017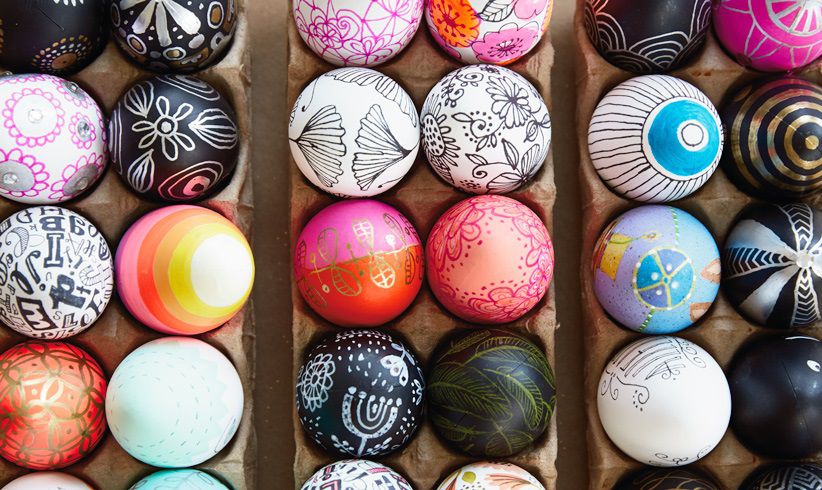 I'm continuing early preparations for Easter with dozen ideas how to make holiday's decorations handmade! Home decorations, dishes recipes, special gifts and packages for gifts and after all – the main thing to decorate are definitely eggs!
Colorful, bright, creative designs for eggs can make your family gathering so interesting! And the best part of it is that you can make them handmade at your home, you can create some new ways to decorate eggs, you can DIY with kids and so many others ways! All of them will sure bring you joy and beautiful results!
Here's a video which contains 3 wonderful ideas of how to make beautiful Easter eggs handmade!
1.    First one is quite simple and will suit those who really love to draw.
It's about creating some garland of eggs but also you can just skip the hangers and then have just decorated eggs.
You will need:
Color pens or sharpie markers;

Eggs;

Glue;

Hangers.
In the video you can see simple but nice patterns which you can use. After eggs will dry, put some glue and hanger on a top of it.
2.    Second option is romantic one
 You will need:
Protective plastic;
Eggs;
Brush;
Stickers;
Glue;
Ribbon;
Scissors;
Glue for metal leaf.
First dry the egg with paper. Cut out some stickers which you need. Accurate put it on the egg. Brush with glue for metal leaf. Let it dry for 15 minutes. Put a foil on it. Using brush make some pattern. Use glue to pit a hanger.
 3.    Marbled eggs
You will need:
Marbling kit;
Protective plastic;
Plastic eggs.
Pour in cold water paint from your marbling kit. Mix it for your pattern, put inside your plastic egg and let it dry between two jars. Let it dry for 24 hours. Enjoy!