DIY Cotton Canvas Heart Sunglasses Case
April 28, 2017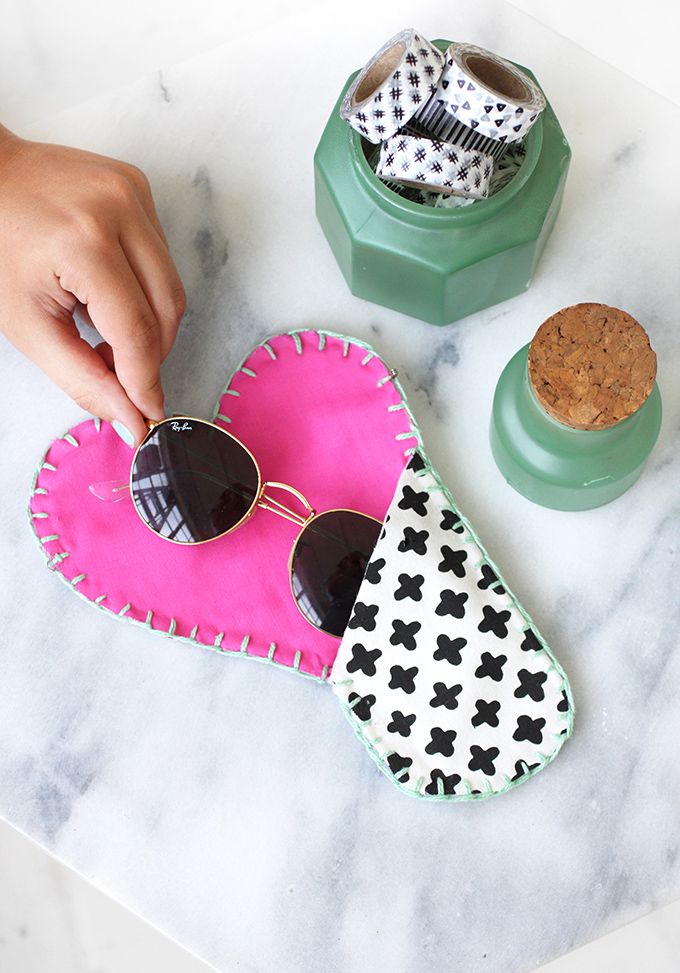 Hello everybody!
Even though it is raining out here and sun is hiding behind the clouds, I still believe it will come out soon because summer is only one month away! And I being extremely excited already started to prepare for it. As we all know, a must have for any sunny day is a pair of sunglasses or maybe even two. The problem here is that many of us do not own a case for them. We are usually just throwing them into the purse and breaking them by doing so (girls problem mostly). But today we are going to change it by creating this cool Cotton Canvas Sunglasses Case. Cotton canvas is a great material for this DIY as it is easy to work with and it is durable and secure so your sunglasses will be in the safe place.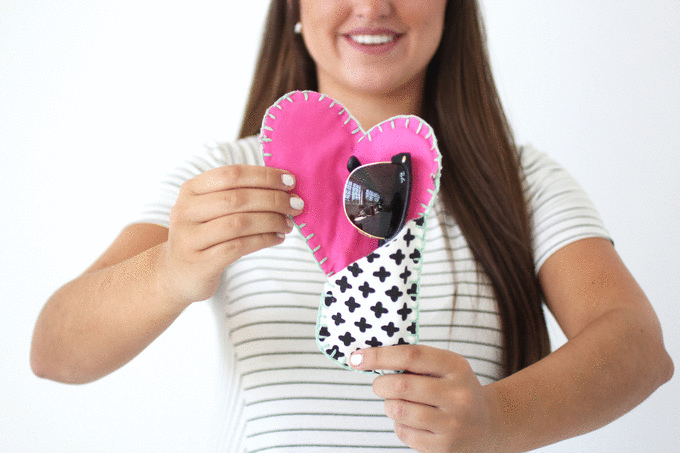 Grab a combination of the colors you love and let's start creating! For this tutorial I am using black and white patterned fabric together with the pink one and I am in love with this combination.
Supplies:
- 1/2 yard Cotton Canvas Printed fabric
- 1/2 yard Cotton Solid Fabric
- Scissors
- Needle
- Embroidery thread
- Hook and Eye
- Case template
1. Print out the case template and cut it. Trace it onto the both colors of your fabric and outline. Cut the fabrics afterwards.
2. Place the felt between the two pieces of fabric, with the print facing outwards and fold over the right side of the case to create the pouch for the sunglasses.
3. String your embroidery thread through the needle and start sewing using the blanket stich around the perimeter of the case. I chose a blue colored thread which creates a perfect contrast with the colors of the fabric. When you are done tie a double knot at the end of the embroidery thread. To hide the knot do one stitch through the bottom layer, and pull through.
4. Next, stitch through all the layers from the top, and pull the thread tight. Make another stitch 1/4 inch from the first, and as you pull tight, thread the needle through the loop, then continue to pull tight. Repeat around the edge of the case, when you reach the beginning stitch, double knot and cut off excess.
5. Finish by stitching a hook and eye on the edge of each side of the heart, camouflaging the ends by hiding between the fabric and then stitching.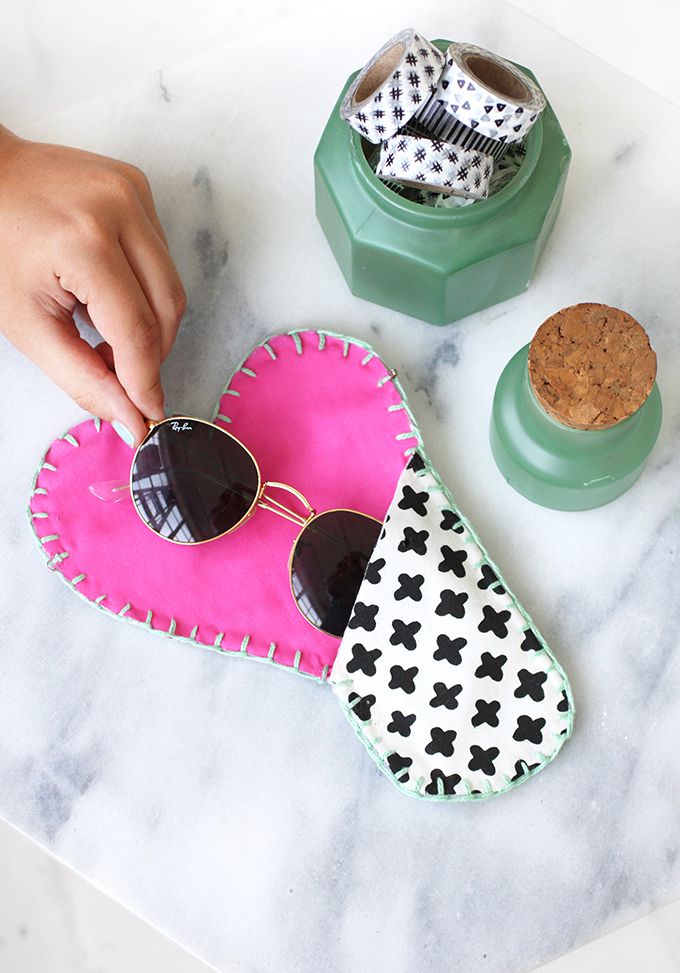 Voila! Enjoy!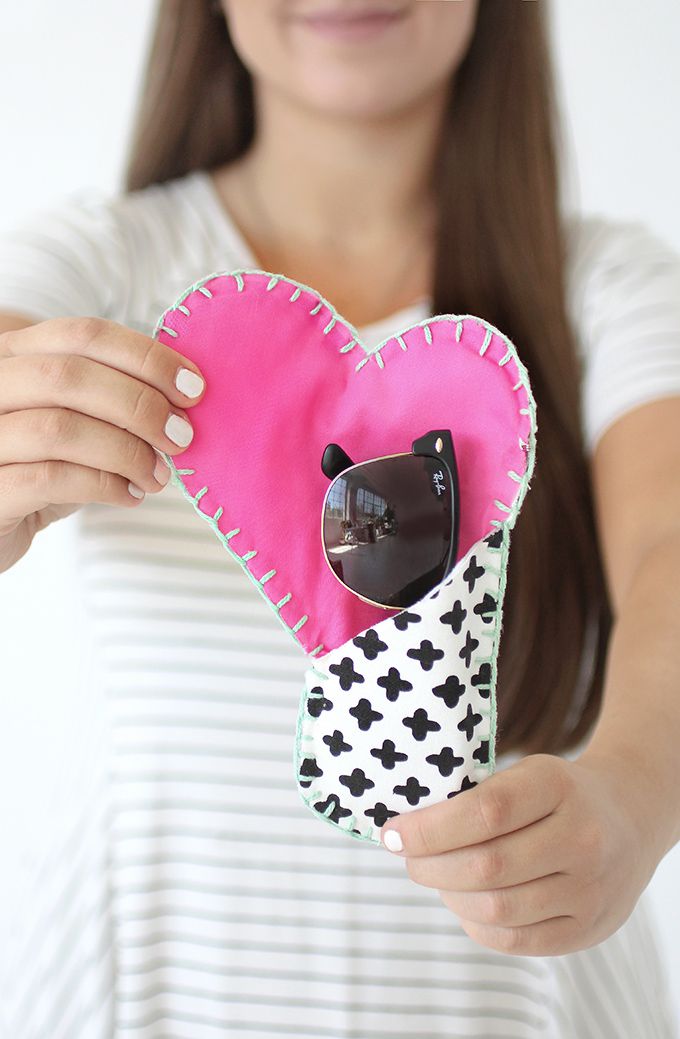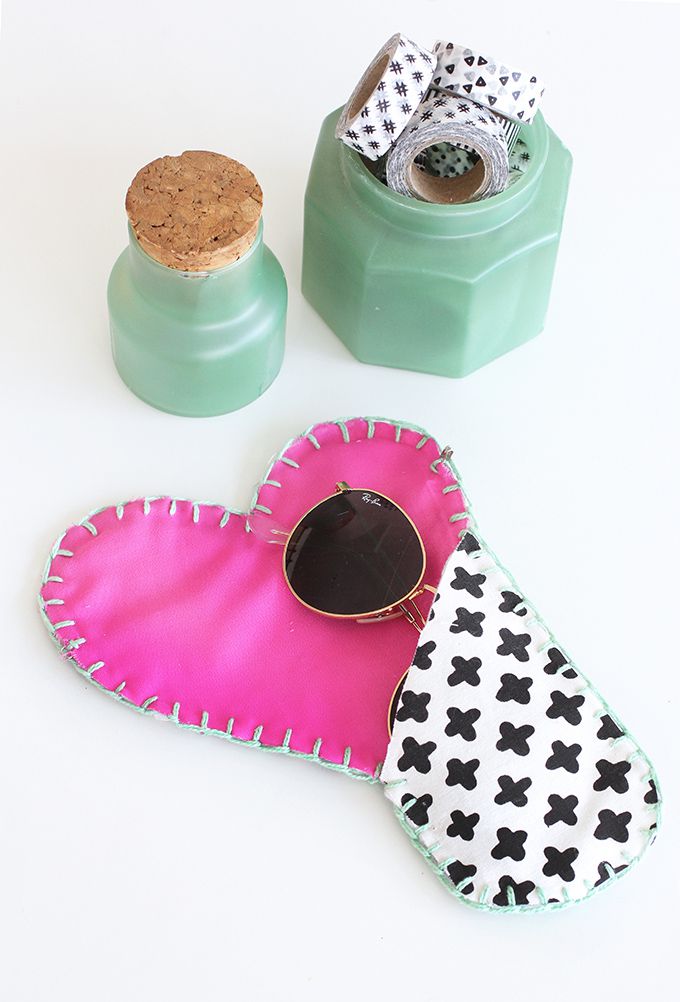 Source: ispydiy.com