How To Cook Chicken Parmesan
June 23, 2016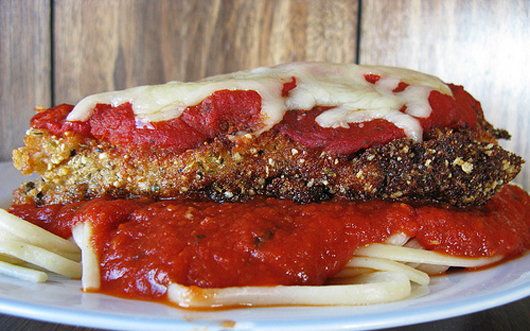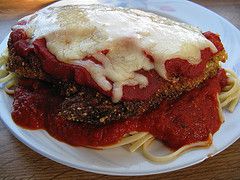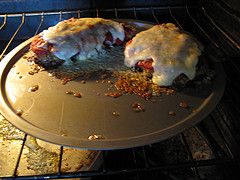 If you like Italian cuisine, then, it's likely that you know about such a dish as chicken with parmesan. The recipe of chicken with parmesan includes tender chicken fillet covered with breadcrums, mozzarella cheese and Marinara sauce. First of all, we fry the chicken and, then, we bake it in the oven. This way we get a very juicy chicken. This recipe requires effort and time on your part. However, believe us it is worth it. if you wish, you may even cook Marinara sauce by yourself. Garlic bread and Linguini macaroni will perfectly match to the chicken.
Ingredients:
2 chicken fillets without skin;
1 glass of flour;
1 glass of breadcrumbs;
1 glass of parmesan (you need to grate the cheese in small pieces);
1 glass of mozzarella cheese (we grate it on a grater with large holes);
1 tin of Marinara sauce;
1 egg;
¾ of a teaspoon of cayenne pepper;
1.5 of a teaspoon of dry basil;
1.5 of teaspoon of dry marjoram.
The Process Of Cooking
Step 1: Put chicken fillets in between the sheets of waxed paper and tenderize it with the help of a steak hammer so that the thickness of the fillets is equal everywhere (it should approximately be 1 cm). You mix breadcrumbs, marjoram, basil, cayenne pepper and parmesan in one bowl. You need to break an egg and whip it up a bit in another bowl. Pour flour in a separate bowl. Crumb the fillets first in flour, then, in egg and, after that, in the mixture made out of breadcrumbs, cheese and species.

Step 2: Fry the fillets a bit on a frying pan. Both sides of the fillets should get golden a bit.

Step 3: Put the fillets on a baking tray. Pour Marinara sauce on top of them and sprinkle them with mozzarella.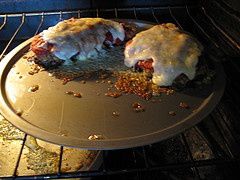 Step 4: Put the baking tray in the oven and bake the fillets. You bake them for approximately 25 minutes and the temperature should be 180oC. You serve the dish with Linguini macaroni and what's left of Marinara sauce.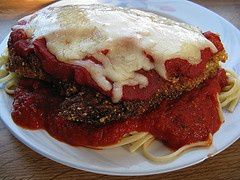 That's all. Our dish is ready. As a result of the efforts that you've made you get a juicy chicken with a great aroma. Besides, it has a really Spanish-like taste. Enjoy your meal!