After needlewomen have crocheted rather big articles, for example, a racked patterned dress (made with a crochet) or a man' s sweater (made with knitting needles), they very often have small amounts of yarn left. They do not usually use them. As time goes by, there are more and more such like things. We suggest you finding a way to use them. You can do it with the help of our scheme and description on how to crochet a nicely looking purse that you can see here.
Crochet Purse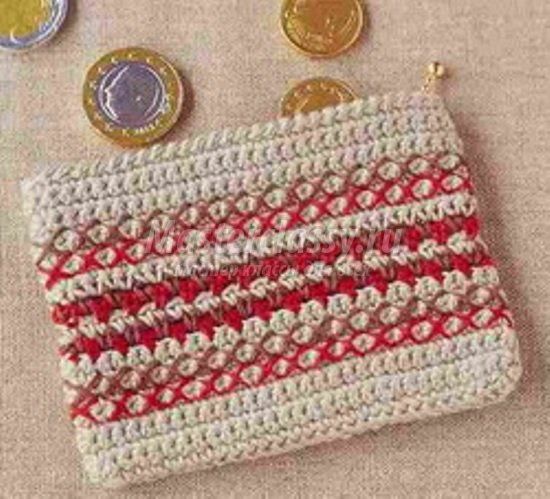 This purse is not only very beautiful, it is also very convenient to have it. You may put in it not only banknotes, but also coins. In order to crochet it you'll need the following materials and instruments:
a thin wool of 3 colours. In our case, it's white, brown and pink;
a crochet №2 or №2, 5 (depending on the thickness of the wool);
a zip-fastener. In our case, it's white;
a stitching needle;
scissors.
How to crochet a purse – the description of the process step-by-step.
Step one. This purse is crocheted around a circle. That's why you need to make 30 chain stitches at first. You connect them in a circle and make one more turning chain stitch. Then, we go on crocheting in circles, using the scheme given below.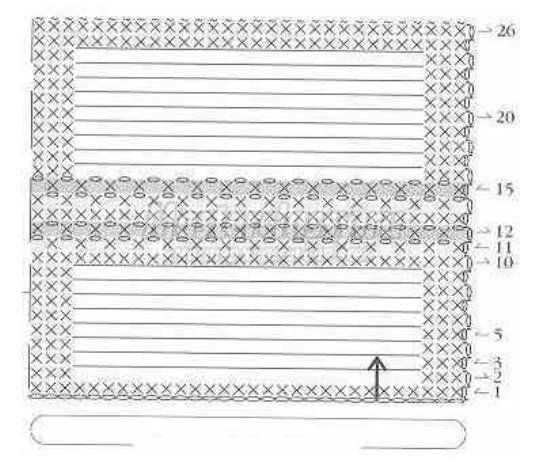 Step two. Pay attention to the fact that we crochet the 11th and the 14th row using a red thread. The 12th and the 15th rows are crocheted with the help of the brown thread. We crochet all the rest rows using the thread of the main colour (white).
Step three. Once the purse is ready, we make a cross-stitch embroidery on it. This is done under the 2 rows of red and 2 rows of brown colour. Do it the way it is shown on the picture.
Step four. Then, we carefully stitch a zip-fastener to our article with the help of a needle and a thread. We do it with the help of a blind stitch on the wrong side of the article and finish our work.
Our unusual crochet purse is ready! You can give it as a present to someone, for example, to your mom, friend or a colleague. They will really like it.