Halloween is a holiday not only for adults but also for animals. If the owners love to celebrate this holiday then they try to dress accordingly. And this also applies to pets.

The tradition of celebrating gives you the opportunity to show fantasy and create an unusual costume with your own hands. Have you decided what homemade dog costumes to do for your pet? If not, then this article will help you with this. Do not forget that your children will also be interested in participating in the creation of such a suit.
Dog costume ideas can be varied but necessarily coincide with the theme of the holiday. If you have a pet, then he dressed in a suit done by yourself, will personally complement your image and make the holiday even more fun.
What can be DIY dog costumes?
Halloween is a fun and at the same time a "terrible" holiday. We are prepared in advance and thoroughly. We decorate the house with carved pumpkins and fake cobwebs, prepare "terrible" food, and sew for themselves and children fancy dresses - from fairy-tale characters and comic characters to popular figures like Lady Gaga and Marilyn Manson.
Also, we do not forget to dress in all these (in a literal sense, monstrous clothes) our four-legged pet.  And after that, we arrange a parade along the main street with awarding the winning dogs for the creator's creativity and, apparently, the patience of the animal itself. So what can be the dog Halloween costume ideas?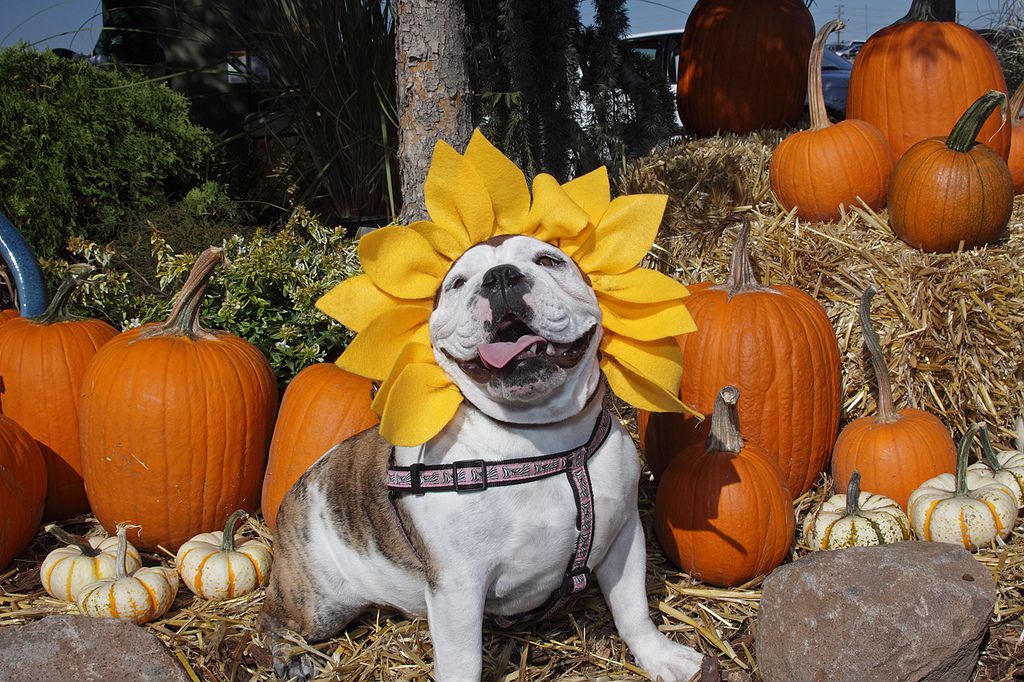 Costumes for dogs are different. In the first place, the most comfortable are sports suits. They are sewn from comfortable, often stretched fabrics, for example, knitwear.
And so in such a costume, the dog feels particularly comfortable. A little dog can be worn in an athletic suit and at home when the heating system has not yet been switched on, but it has already become colder. A knitted or fleece suit will not hamper the dog's movements; it will not even feel it.
And just in this costume, you can catch a variety of capes of superheroes or monsters, or vampire and the like. This will be the easiest option: comfortable, beautiful, and suitable for the motif of the holiday.
10 DIY dog Halloween costumes
Hundreds of dog owners can dress up their four-legged pets in incredible costumes. You will be able to dress up your pet - a dog - in some original fancy clothes. Ideas for creating such a work of art can be diverse. Some suits may ask for the cover of the magazine, but some may be so unusual and peculiar that at first glance it is not immediately clear what it is. Only you have to decide which suit will fit your dog. Who knows, perhaps, to dogs, nothing human is alien and Halloween is also a holiday for them. So we offer 10 suits ideas.
"Dog in the costume of a three-headed dragon". You can sew two more heads like your pet's head. And sew them on the sides. And in the middle, there will be a real head of your dog. Do not forget that it's Halloween. So sewn heads should be scary. For example, sew or stick big white fangs around, make fake eyes, and so on.

"Dogs carry a gift". This is the large dog costume ideas. Because a big dog can put a bigger gift on itself. How to sew? It's quite simple. You need to sew a simple suit for a dog. However, make sure that the front legs and trunk are dressed in the same colour and the hind legs are clothed in the other. Since for the hind legs you need to sew the toy dog's head. Make the suit look as two dogs together. And in the middle on the back of the dog, sew the gift. Accordingly, it will look like two dogs carry a gift.

"Dog-spider". Many people fear such an insect as a spider. And if it's a huge spider then it's really creepy. Therefore, this suit for your pet will be perfect for the holiday of Halloween. Sew only four pairs of legs, for example, to a sports suit of a dog. Also, pick up the material. If you apply shaggy paws then your dog in this cloth will look even scary.

"Dog-Bumblebee". Like a spider's suit, you can sew a costume in the form of bumblebees, bees or flies. Instead of many quotes, you need to sew the wings. And also pick up the material of the corresponding colour.

"Banana dog". Sounds funny, is not it? But everyone wants to eat it. And if you have a monkey suit and your dog has a banana costume, then this will be the perfect combination. Just look for a beautiful yellow fabric, preferably fluff and hard. And cut it in the form of a banana according to the size of your dog. And think of a bonnet on the head like a banana end.

"Shark costume". All you need is to sew a shark costume. But the dog's head should be as if in the shark's mouth. What is common between a threatening predator, a shark from the depths of the sea, and a funny little dog? The fact that any dog can become a real shark in a few minutes! To do this, you need a special suit that draws to your pet the looks of all passers-by. A shark suit can also include a headpiece with a print in the form of an eye, as well as an original overall with fins and a shark tail. You and your four-footed friend will like it!

"The costume of the bat-dog". It can be really one of the preferable homemade dog Halloween costumes and by theme and by sewing. Superheroes can be not only people. A superhero dog is also excellent and above all an entirely innovative option. If your dog could completely save the whole city and you like the idea of dressing him in a wrestler suit for justice, turn him ... into Bat-dog! Such a suit can be a funny headdress with funny ears and small wings that are very easy to wear and will not make a dog feel uncomfortable.

"Dog-dinosaur". Any four-legged baby can be turned into a prehistoric reptile. You will need one thing - a dinosaur costume that will help any animal look cute, funny and original. You can make a suit from nice grey overalls, and also from a headdress that imitates the muzzle of a dinosaur.

"Count Dracula". Do you celebrate Halloween with your favourite pet? This is the great carnival costume for a dog on Halloween. Dracula's costume for a dog is your option. This vampire suit on your lovely dog will be more fun than scary. You can sew a shirt with a sewn medallion, a raincoat and a headpiece.

"Mammoth Costume". It will fit both for the big and for the little dog. Who said that mammoths are extinct? You can prove that the hairy giants with tusks still live among us. True, this mammoth is a little ... Mammoth's costume will turn any dog into a mini-copy of the ancient giant that once wandered around our planet. The suit can consist of two parts - coveralls with paws and caps with tusks and a trunk. However, pick up a woollen cloth, like a fur coat. And see that your dog was not hot. Although Halloween is not celebrating in the summer.
Nowadays, a large number of clothes for dogs are sold in specialized stores. But in such stores clothes for dogs are sewed on the same patterns, and dogs have different sizes. Therefore, you can sew clothes by yourself. And the dog should be comfortable during the holiday; clothes should not interfere with movement. And, in addition, the owners want that the dog looked individually. Therefore, it is better to sew or tie clothes for dogs with your own hands.
You can sew a crab suit, a superhero or dog mummy costume and many others you wish. You need only to show imagination. Do you have a four-legged friend? Do you want to make it glitter among other dogs for this Halloween? So sew any costume from this list and your pet will be the best.
What is important?
Before proceeding to the creation of a suit, you should think about the image of your animal, and at the same time analyze how to create an atmosphere of the holiday for the pet. But the suit should be comfortable and not tight. It is important that the suit does not block the movements of the pet.
Try to take the steps correctly, use natural fabrics, put into practice less various decorations that will interfere. And if you decide to sew them, fix it well so that the animal is not crushed by them. Make neat stitches that will not get drunk in the skin of a four-legged friend in every careless move.