Outdoor Christmas Decorations
May 27, 2016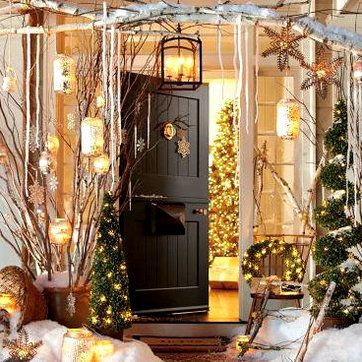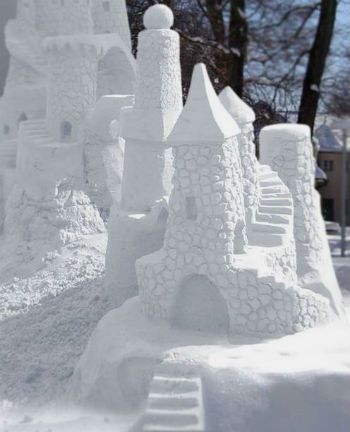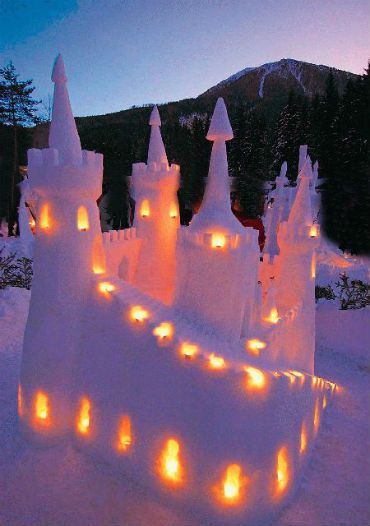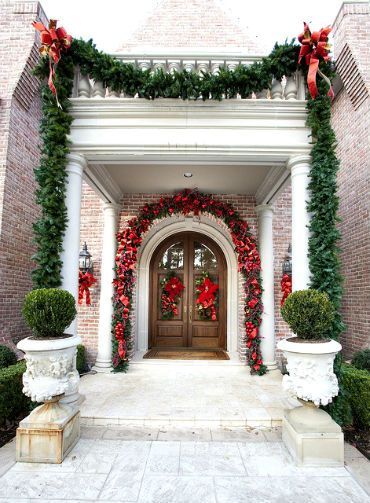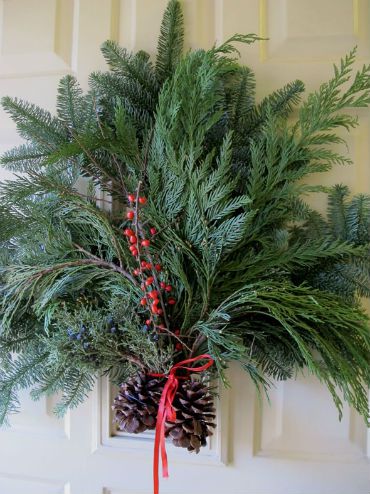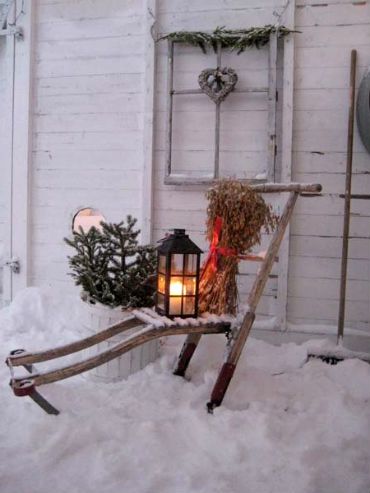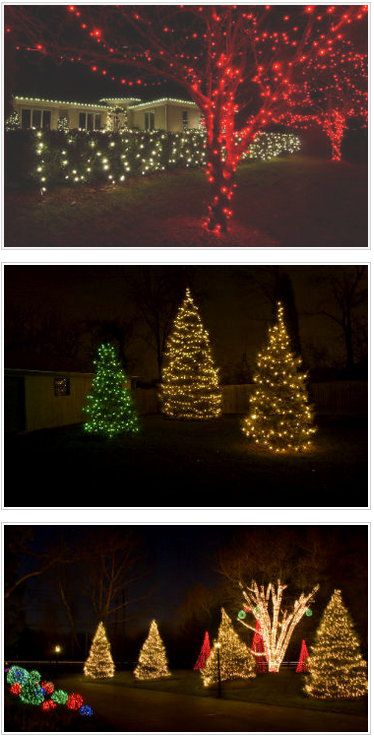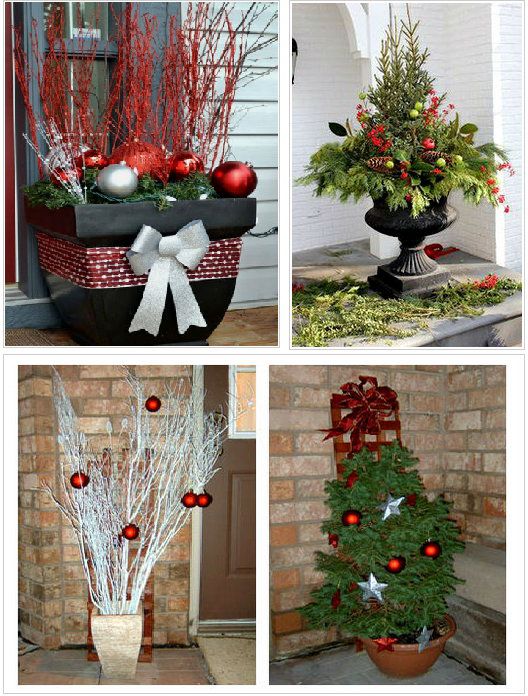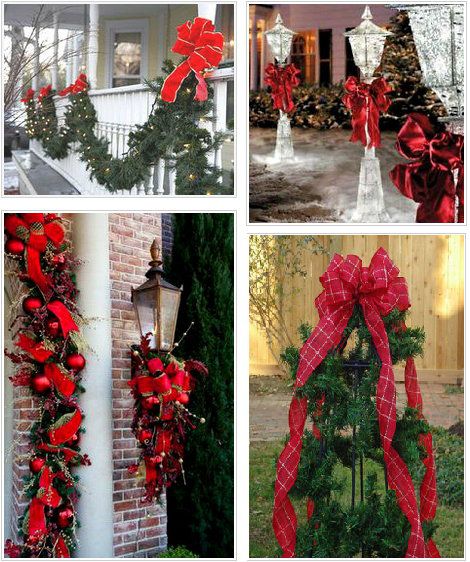 Imagine: you come back home and start feeling a holiday mood once you're in the yard near your house. Our today article on "How to decorate your yard for the New Year" seems to be quite on time when you think about that.
1. Decorating your yard with bows. If you want to make your yard look really beautiful and holiday-like, try decorating it with bows. You may make the bows yourself out of wrapping ribbons or you may buy them at a department of a store where the presents are wrapped and decorated. The bows may be fastened to your fence, handrails of a stairs, lamps you have outdoors on the walls, your entrance door, lampposts or flower pots racks.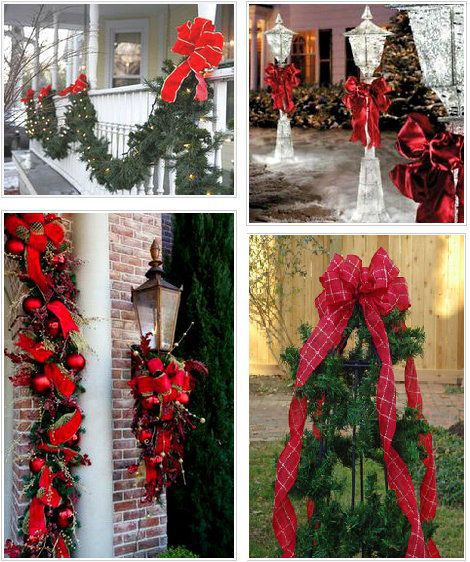 2. Decorating street flowerpots. Flowerpots may be decorated with spruce branches, cones, walnuts, acorns or chestnuts, a Christmas tree balls, bows or garlands. Besides, you may make flowerpots with your own hands (for example, in a Santa Clause style). In order to do this you need to take a small can from canned goods and colour it in red colour. Then, you need to put around the can a black "belt" with a big badge and tie it. You may put pine and rowan branches into the flowerpot.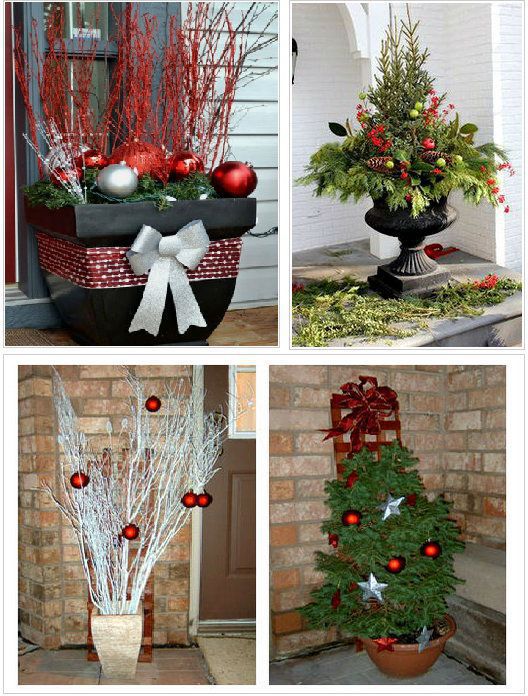 3. Illumination of the trees. Garlands may make your yard look like a fairy0tale. However, simple garlands won't do here. You need to have special street garlands. You have them already? Okay, now we need to take the garlands and wind them round the stems of the trees in your yard. We need to locate the lights of the garlands symmetrically, so that they are along the edge of the trees. Besides, you may buy glowing icicles and put them symmetrically on the branches of the trees.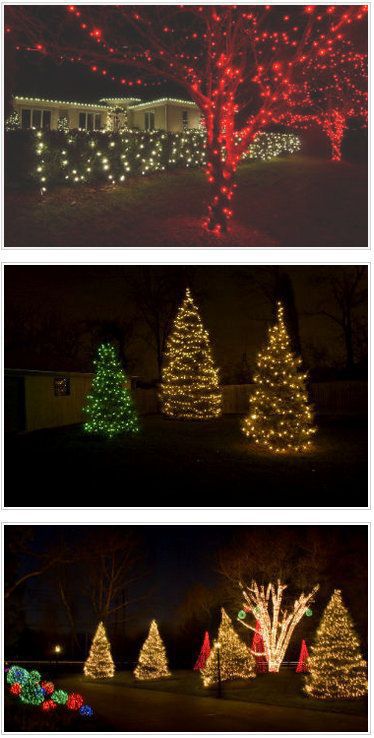 4. Kids sledges. Old sledges may be an impressive yard decoration. You only need to do it in a right way. Actually, it's not hard to make this "installment". For example, you may put the sledges near the doorstep. Then, we put a displaceable lamp on the sledges. Inside the lamp there is a burning street candle. We also put a bunch of firry branches near by. Other possible variant you may see on the pictures below.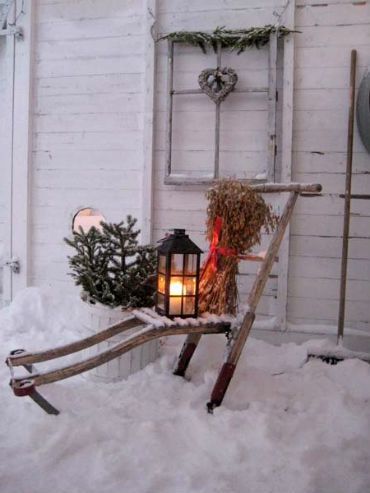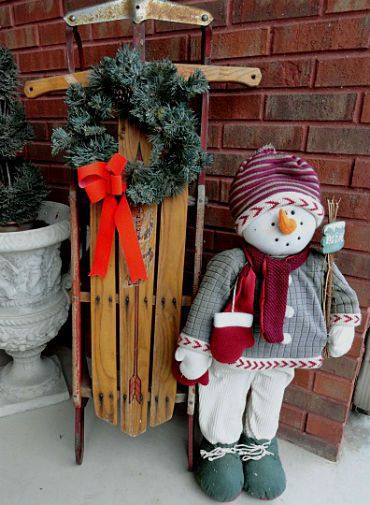 5. Spruce branches. A symbol of New Year is a beautiful tree. Therefore, you may decorate all your yard with spruce branches. You'd better buy artificial ones since: firstly, this way you'll keep the nature safe. Secondly, these branches are more flexible. Thirdly, they always look beautiful and holiday-like (they do not wither). You may make garlands out of these branches by tightly tying the branches with usual sewing threads. You may create a holiday wreath or decorate with them flowerpots, windows, doors and lampposts.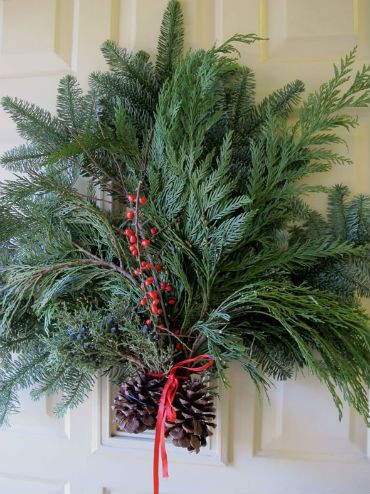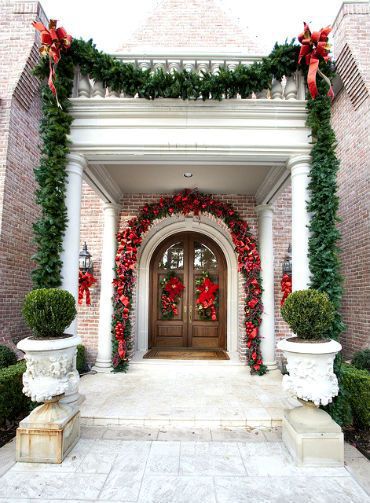 6. Castles made of snow, fortresses, igloo. If you have enough time, you may go outside together with all your family and built castles, fortresses and igloo out of snow. Such like snow castles will be a real decoration of your country cottage area.