How To Make Cheerleading Pom Poms
May 31, 2016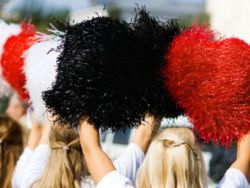 Cheerleading turned from an exotic type of sports dance into general hobby of modern girls and girls for a long time. Still there is no accurate definition to this spectacular show accompanying sport competitions. Cheerleading in itself combines dance, acrobatics and gymnastics. But there is one invariable attribute without which it's impossible to imagine slender vigorous girls in attractive short skirts, and these are pompons. To make bright pompons for support group (cheerleaders) with one's own hands is a question of several minutes.
Pompons From Cellophane Bags
To make such pompons for cheerleading as practice shows, is the simplest. First, such accessories will manage very cheap, after all the price of usual packages the low. Secondly, time you will spend is minimal - no more than half an hour! Thirdly, pompons for cheerleading from packages can be any flowers (both monophonic, and multi-colored).
The following will be necessary for us:
packages;
scissors;
adhesive tape;
stick (plastic or wooden).
Before making pompons for cheerleading, stock up with packages of the color suitable you. Put them an equal pile, remove all sharp corners, cut them in soldering places.

Put a pile in half and cut in the middle. Thus you will double quantity of layers of cellophane. Then from both sides make cuts, but not to the line of a bend. Watch that strips on width were identical. The already they will be, the more magnificent pompons will turn out. Then bend a pile of bags in half (in the area of a bend), twist and record by means of an adhesive tape or an insulating tape. The pompon is ready!

If you need a pompon with a handle, wrap up the cut bags round a plastic or wooden stick, and then properly wrap up them an adhesive tape.
Paper Pompons
Similarly it is possible to make also pompons of paper. Best of all the corrugated is suitable for this purpose. At first on the paper put in some layers make cuts at identical distance, and then wrap the turned-out preparation round a stick, having recorded an adhesive tape.