DIY dishes from beet
June 22, 2017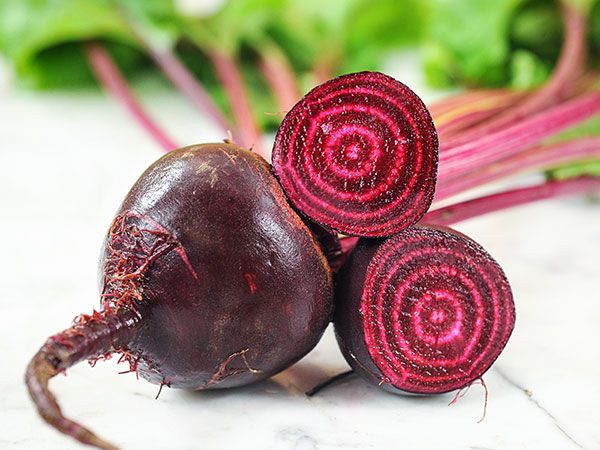 Beet is very useful for your health. But often we don't know what to do with it. Today I will share with you 3 my favorite recipes how to create handmade dishes using beetroot so they can be both beautiful, useful and delicious!
Salad of baked beet with cheese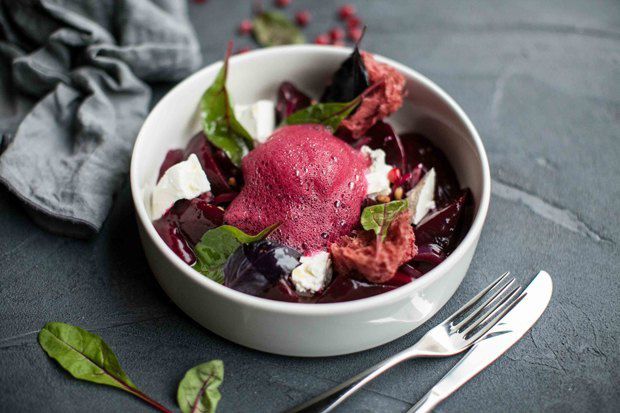 INGREDIENTS
Young beetroot - 800 g
Sheep milk cheese - 280 g
Basil leaves - 12 g
Pine nut - 20 g
Cream balsamic, Provencal herbs, garlic and chili - to taste (for baking beets)
PREPARATION
Thoroughly rinse and clean beetroot. Put into the baking dish first a peel from the beet, and on top the peeled beet. Sprinkle with balsamic, sprinkle with Provencal herbs, garlic and chili. Pour water (500 ml). Close the lid or foil and leave in the oven for 2.5-3 hours at a temperature of 140 degrees. Cool the beets, cut into large slices and put on a plate. Pour the sauce left over from the baking. Top with cheese, pine nuts and greens.
Phali of beet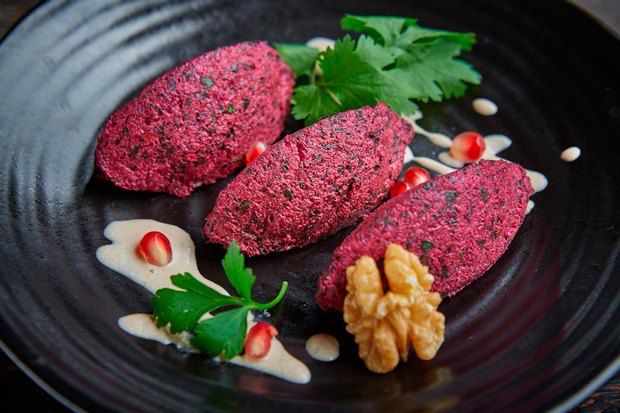 INGREDIENTS
Onion - 30 g
Vegetable oil - 10 g
Beetroots - 300 g
Walnut - 100 g
Saffron imeretinsky - 1 g
Chili powder ground - 0.5 g
Ground coriander - 2 g
Salt - 2 g
Cilantro - 5 g
Wine vinegar
Garlic - 10 g
PREPARATION
Boil the beets in water with salt and soda. A little squeeze it handmade, so that excess liquid leaks, clean and finely chopp. Through the meat grinder several times to scroll the walnut and garlic, mix with the beets. Add the fried onions, spices and greens. Mix handmade everything to a homogeneous mass - it should become elastic. Add the vinegar and mix again, glue the balls.
Sorbet of raspberries with beets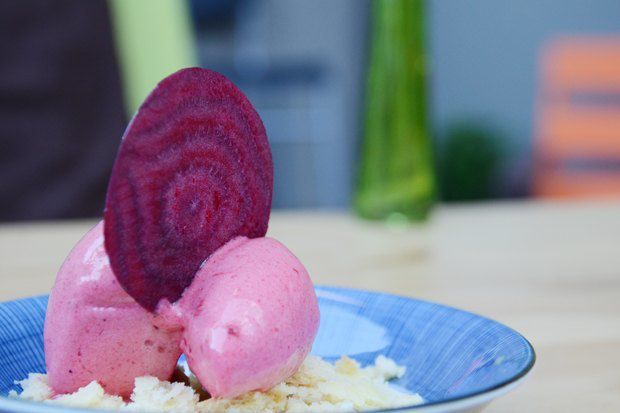 INGREDIENTS
Raspberry puree - 350 g
Beetroot juice - 150 ml
Lemon juice - 30 ml
Water - 300 ml
Sugar - 100 g
Glucose syrup - 50 ml
PREPARATION
Mix the water, sugar, glucose syrup and put on fire. Boil until boiling, then cool to a temperature of 6-10 degrees (the temperature of the refrigerator). Add the raspberry puree (raspberry in a blender), beet juice and lemon juice to a cooled mixture. Stir well and put in the freezer. When the mixture is half frozen, mix with whisk and again put in the freezer. Continue to repeat this procedure until the mixture takes a consistency of sorbet.
Enjoy!