I like to visit flea markets and to look on vintage things. Once I saw a very beautiful necklace and began reading about the technique it was made with. This was a soutache technique. In this article, I would like to tell about soutache technique.
Soutache technique was founded in France in XIV century, and later it actively developed in Netherlands. Firstly it was applied to decorate the dresses and to make the accessories. For a long time soutache was not popular, and in the 90s it becomes a trend. Soutache technique was used by designers in jewelry manufacture.
There are several directions of soutache technique:
1. Jewelry – a creation of the earrings, necklaces, pendants, bracelets, pins.
2. The decoration of men's and women's clothing with embroidery. Something this technique looks like the ribbon sewing.
3. Weaving decorative accessories. On accessories, this technique looks like a kind of macrame.
Soutache cord is very delicate and it looks fine on the tissue.
Below I give some general directions of on have to create an accessorize using this technique:
1. You have to draw a sketch of the item you want to do. Make a scheme of the pattern and placement of the beads.
2. Now you can begin work with the elastic cord. If you decorate a medallion, start from the reference center. Weave the pattern from a cord then sew the beads.
3. When the workpiece is almost ready, take care of inside, it is important because of shape. If you wish to wear your elegant accessorize for a long time it should be kept in shape. Usually, masters use either felt, of natural leather as inside material. Sew the leather around the perimeter of your brooch.
Follow these rules to design jewelry or accessories of different types. Wear your own handmade accessorize with pride!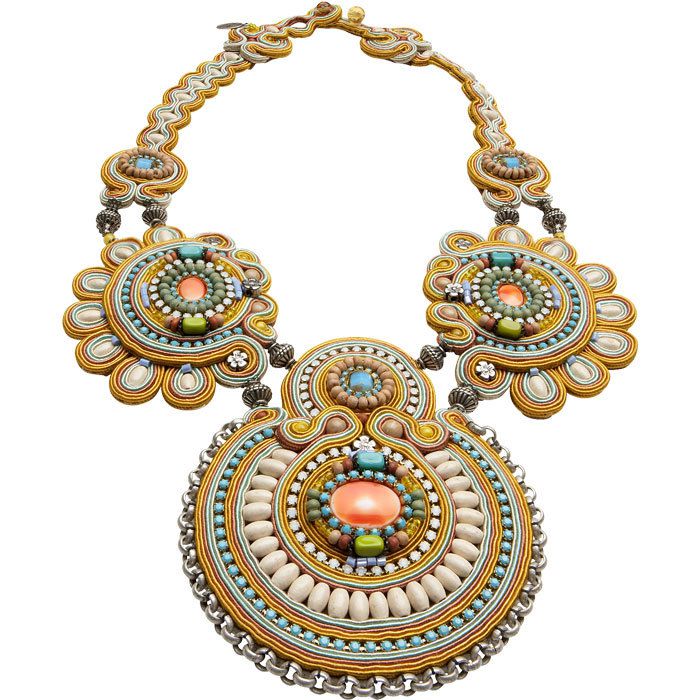 Pictures from: http://makezine.com/