Embroidery is a fun and relaxing handmade activity that lends to making beautiful pieces of art. Straight stitches in embroidery are the base for different stitches. For example, the stem stitch was widely used by handmade masters in Egypt and Peru. Straight stitches act as the building blocks for your embroidery as you work patterns in a variety of styles.
Straight stitches are the basic for a beginner embroiderer, as they form the basis for many more sophisticated embroidery stitches. Try to place stitches of the same size at equal intervals, or make a stalk-like seam in the form of spirals and circles to learn how to create a smooth, flawless line.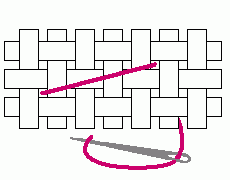 Straight stitches are easy to perform both on smooth and countable fabrics. If you are just beginning to embroider, then work on counting cloth. This will significantly simplify the work, as you can count the threads and plan your embroidery better.
Materials used in handmade embroidery:
Fabric – fabric should not be stretchy, cotton will be the perfect choice for the embroidery.
Embroidery hook – they are usually made either of plastic, or wood. The wooden one will be cheaper.
Floss – it is a personal preference thing, you may buy the ready embroidery sets.
Needle – you may need the needles of different sizes.
Patience – it is both creative and handmade learning process.
You can experiment with wedge-shaped and chevron stitches to process the panties or sew them in even rows to fill the colored areas.
Place the stitches randomly on a monophonic background or execute them in groups to emphasize the border of your motif. Grain stitch can be used for the effect of chiaroscuro inside the bordering contour. The Holbein seam looks spectacular when it is made with a single-sided darning stitch, especially when the linear stitches are adjacent to darning stitches, as in the model opposite.
Straight stitch is often used in combination with the ribbon embroidery. A single straight stitch can be quite bold, depending on the ribbon you are using. It looks fabulous in Provence style - flower buds, romantic lavender fields.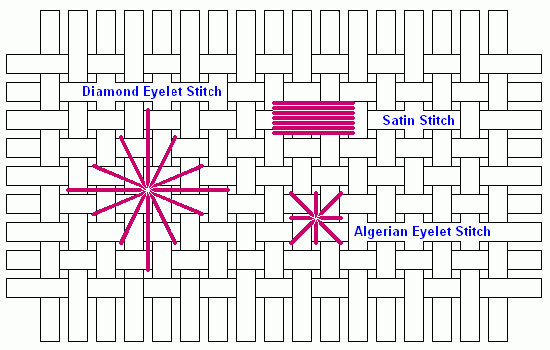 Pictures taken from: